In the past couple year, ITX market became more and more popular. Many MB makers launched related products.
Some of my friends choose ITX due to space concern.
For small room or preferring small PC, ITX is the best option for you.
The ITX Case I share today is CORSAIR high texture Obsidian Series.
Obsidian Series majority is ATX full-tower chassis. It's simple, texture and scalability.
Recently, it also has Micro ATX350D and Mini ITX250D.
For who requires high performance and small size, these two are just perfect.
Let's look at CORSAIR Obsidian Series 250D box first.
It's thicker carton with detail features. Corrugated paper with less painting is more environment saving.
From here, CORSAIR Obsidian Series 250D will be named as 250D.
The size is 351x 277 x 290mm, and weight is 4.42 kg.
The major material is steel and aluminum front panel. There are some parts using plastic.
Front panel has one 5.25" for DVD or BD-ROM.
Right side has 2 front USB3.0 and headset, mic jacks. The 5 white round dots on both sides can open bottom panel.
Left side has Power and HDD/SSD LED. Bottom round button is Reset.
The light LED is light white. It won't impact your vision at dark site during the night.
Front panel is black anodized brushed aluminum fascia and a brushed aluminum fascia with the company logo imprinted on it.
It's not anti-fingerprint, but still acceptable.
If the white CORSAIR logo is nameplate, the texture will be better.
Top panel is partial transparent window design. Users can see through it.
No matter water cooling, air cooling, MB orRAM, if it's Luminous, the visual effect is better.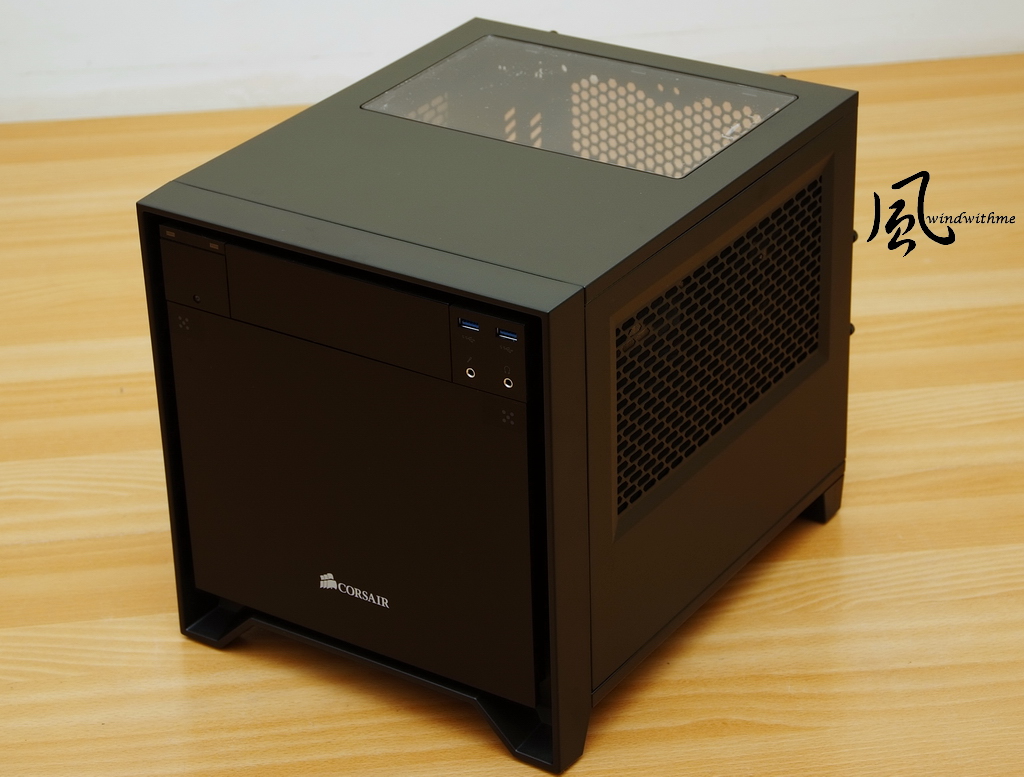 Left side
It has large openings with integrated fan filters. It enhances air flow, also lower dust.
Right side
It also has large openings with integrated fan filters.
Back Side
Top can add two 8csm fans. Right side can install high end VGA panel.
Center is Mini-ITX MB IO panel. Lower-left is 2.5" and 3.5" storage trays.
Lower-right is Power Supply. It supports max 18cm high watt ATX PSU.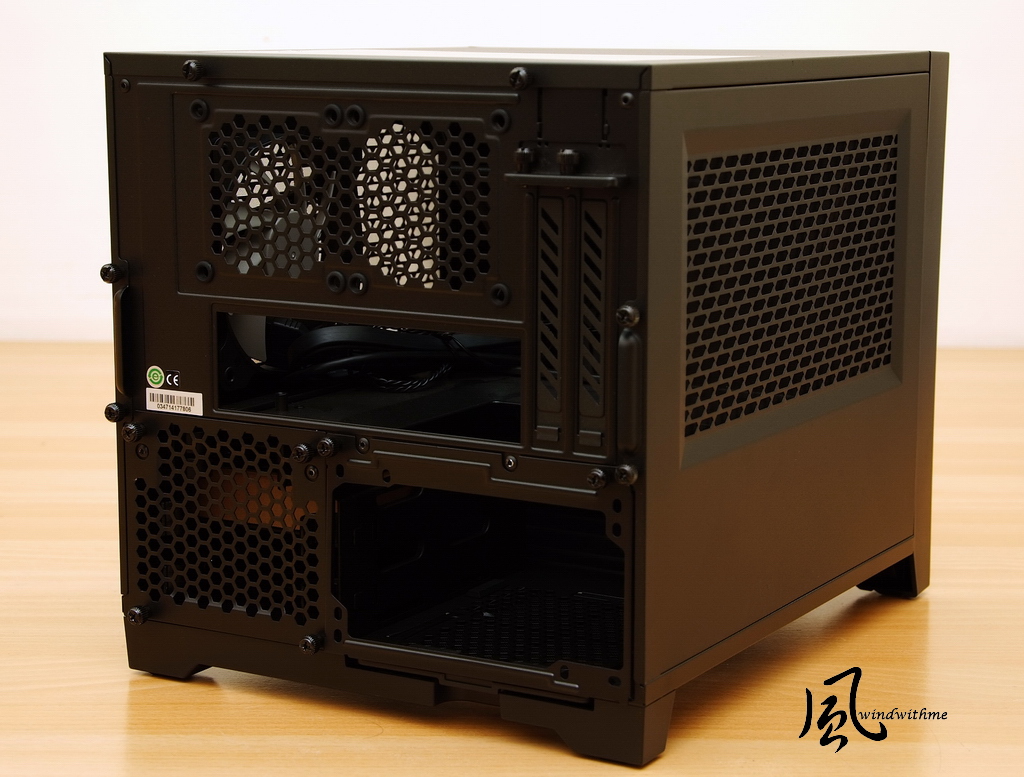 Uninstall 3 side panels
Left side can install two 12cm fans. It bundles with one CORSAIR AF120L silent fan.
If you are using CORSAIR water cooling system, you can install H55, H60 or H100i for better air flow.
Inner top side
Front is 5.25" bay. It's convenient but also makes ITX Case bigger.
Back is for Mini-ITX MB. Below is Power Supply. Front is for PSU cables.