Before in the desktop PC consumer market, it was generally difficult to buy ITX MB products
The few ITX MB products on the market were expensive and suffered the limitations of notebook CPUs and DRAMs
In the past two years, there has been a clear expansion in the ITX market that reflects its increasing popularity with consumers
Starting with the previous generation P55/H55 chipset, a number of notebook brands invested in ITX product development and sales
in order to offer more ITX MB products and let consumers set up HTPCs more easily
while also allowing them to use the CPU and DDR3 specifications of desktops, thereby dropping the cost of an ITX system a lot
After Intel launched the new generation Sandy Bridge this year, we've heard on the web about a lot of motherboard companies that have plans for ITX products
In general, it seems they will use the H67 or H61 chipsets to reach price points comparable to Micro ATX specifications
ITX has given rise to new market trends,
and the new PC architecture will help boost ITX PC performance gains and allow Intel to significantly raise its visibility in the ITX market.
At this point, let's return to the star of the show, the H67H2-I launched by ECS that uses the high-end H67 chipset in the Sandy Bridge architecture
During the LGA 1156 era, ECS also launched the H55H-I with an H55 chipset, which shows the amount of attention this brand has paid to the ITX market.
To start, take a look at the H67H2-I overall and size specifications for the Mini ITX at 17 x 17cm
A comparison of the differences in the previous H55H-I generation
The H67H2-I has changed to a black PCB with gray DIMM / PCI-E slots that give a stronger contrast to the appearance
Another addition is the overall use of commonly seen solid capacitor materials that effectively increase the durability of the product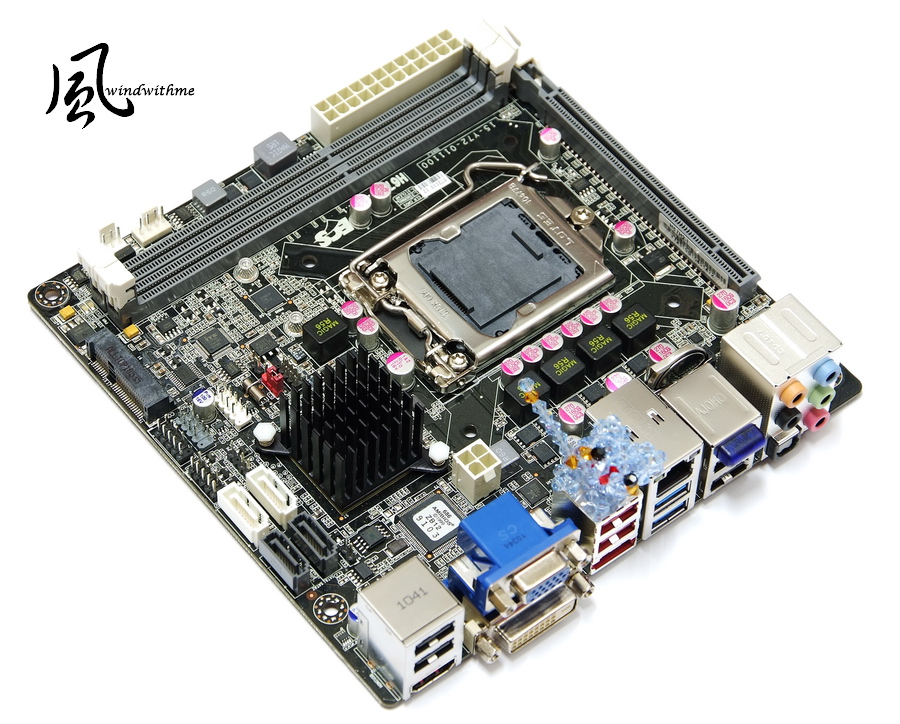 Included accessories
Manual, quick installation guide, IO bezel, SATA cable and driver software CD
Includes low profile bezel meeting more general specifications allowing users to install a wireless network antenna
Bottom of motherboard
LGA 1155 CPU socket, LOTES brand name
1 X PCI-E Gen2.0 X16
Realtek RTL8111E LAN chip
Realtek ALC892 audio chip and a codec supporting 8-channel audio and High Definition
Right section of motherboard
2 x DIMM DDR3, supporting 1066/1333, DDR3 maximum capacity of 16GB.
On side of board, a 24-PIN power input
Top of motherboard
2 x white SATA, H67 chip installed, SATA2 specifications
2 x gray SATA, H67 chip installed, SATA3 specifications
IO
D-SUB/DVI/HDMI
6 x USB 2.0 (red / black)
2 x USB 3.0 (blue)
1 x RJ-45 network holes
1 x Bluetooth module
1 x eSATA
CPU using four types of power input
Based on Sandy Bridge's low power consumption, the maximum should be 2500K/2600K
Sticker on top part indicates device meets Bluetooth specifications
Another feature of the H67H2-I is the built-in Mini PCI-E slot
Interface allows expansion with hardware meeting the same specifications such as mSATA SSD, TV cards or ordinary wireless network cards