These years, the Home PC becomes smaller and smaller. Formerly, Micro ATX was the mainstream of small form factor P.
Now, you can see more and more ITX MB in the market and most users use it to build HTPC.
HTPC full name is Home Theater Personal Computer and the advantage is smaller volume.
Also users can have enough performance in multimedia applications. This is the main reason to make HTPC more popular.
Two CPU companies are competing badly in Desktop PC.
Intel owns Atom structure years and most been used in NetBook and AIO PC. It's hard to find in retail channel.
After then, some MB brands announced H55 or H61/H67 ITX products. They combine Intel CPU having very good performance.
H55/H61/H67 are Intel mid-high end HTPC platform.
AMD platform is hard to see in mainstream ITX segment.
There are still some MB makers produce AMD ITX products, but the price is much higher.
Recently, AMD launched latest Fusion structure to enhance own capability. It can use for HTPC and NoteBook.
This time I would like to introduce AMD latest Fusion, GIGABYTE E350N-USB3.
The packing size is similar to previous GIGABYTE H55N-USB3 ITX. They both use small package.
Accessory
Manual, Quick installation Guide, IO shield, driver CD and SATA cables.
GA-E350N-USB3
Mini-ITX size is 17 x 17 cm
Chipset is AMD Hudson-M1 FCH/AMD dual core E-350 processor/AMD Radeon HD 6310 Graphics Chip
Backside
The cooler is fixed by 4 screws.
1 X PCI-E X16 supports X4, It provides users to use chassis which supports the Low Profile VGA spec.
4 X Blue SATA, provided by Hudson-M1 FCH and supports SATA3
Realtek ALC892 supports 7.1 channel and High Definition Audio technology
2 X DIMM DDR3 support 1066/1333(OC) and DDR3 max capacity is 8GB
Next is 24-PIN power connector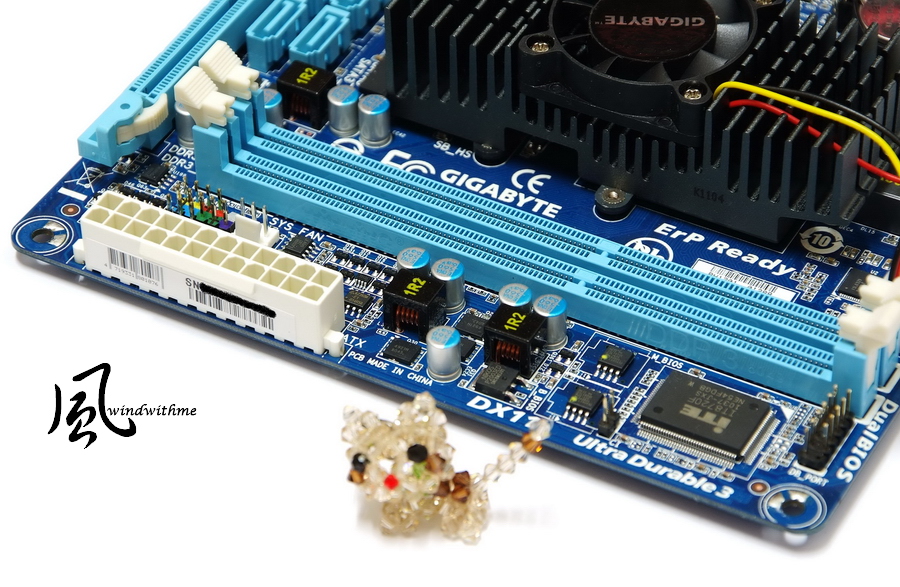 Central is the black active cooler
Below is the AMD APU, CPU integrates with GPU
Chipset includes Hudson-M1 FCH and CPU AMD dual core E-350 processor
IO
D-SUB/DVI/HDMI
1 X PS2 KB/MS
4 X USB 2.0(Black)
2 X USB 3.0(Blue)
1 X RJ-45LAN
1 X S/PDIF Output
USB 3.0 chip is NEC D720200AF1