2012 is very important for PC market. There are more and more mobile devices coming.
Especially smart phones and tablet PCs. It really impacts traditional PC and NB markets.
This change does benefit the users which you can see the change in MB market.
More brands start to enhance their service terms and conditions. GIGABYTE also launched their 4 years warranty in Taiwan.
For mid to high end Intel Z77 platform, the price drops from former 170UD to 120USD.
High end Z77 price is around 10~15% lower than previous chipset.
Except the MB enthusiasts market, the price drop is good for general users.
GIGABYTE high end MB has 2 product lines. One is Gaming series, Z77 model called G1.SNIPER3.
The other one is designing for OC and extreme performance, the board for this review, called Z77X-UP7.
GIGABYTE used to use UD with numbers as model name. This model changes to UP with number.
First, you can see the Z77X-UP7 board. The color is black and orange which is different with past UD7.
Z77X-UP7 is E-ATX, size is 30.5cm x 26.4cm.
Most ATX case can install it, except shrinking ATX case.
It?s for Overclocking market. The following part will introduce all the details.
Accessories
Product Manual, software manual and drivers CD.
3.5? front panel controller board, BT4.0/WiFi card, 4-Way SLI bridge.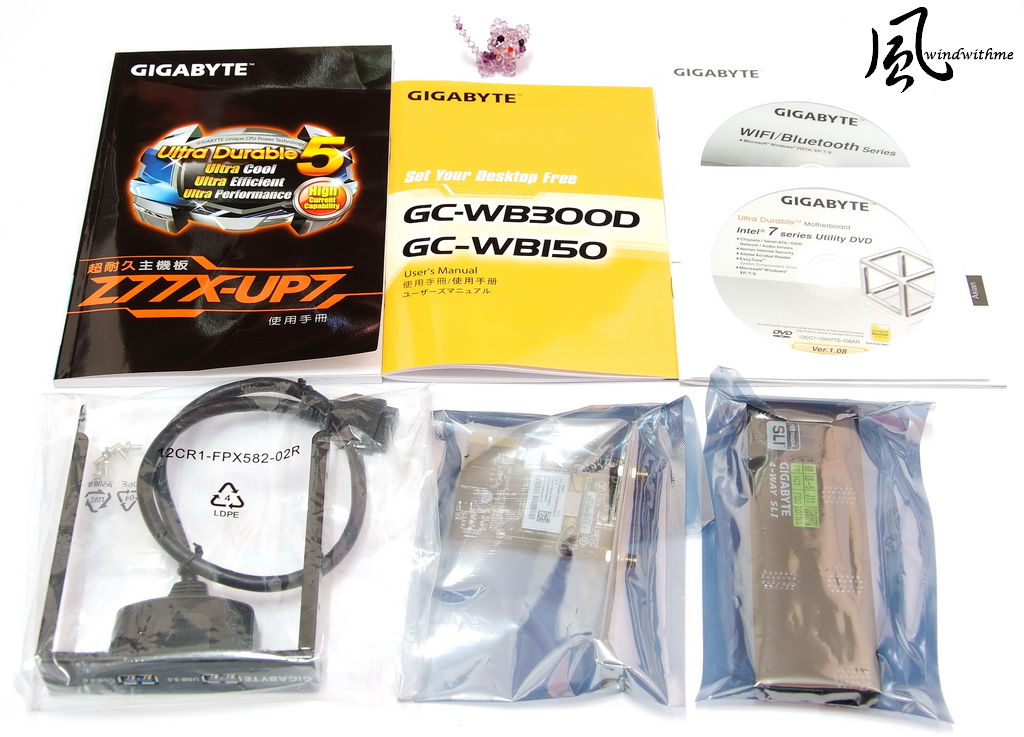 IO panel, back panel SATA bracket, SATA cables, WiFi antenna.
CrossFireX / 2-Way and 3-Way SLI bride, voltage cables.
Lower-Left
3 X PCI-E X16 support X16 bandwidth.
2 X PCI-E X16 support X8 bandwidth.
It supports up to 4-Way AMD CrossFireX/nVIDIA SLI technology.
3-Way AMD CrossFireX/nVIDIA SLI bandwidth is X16 + X16 + X16
4-Way AMD CrossFireX bandwidth is X16 + X8 + X16 + X8
4-Way nVIDIA SLI bandwidth is sX8 + X8 + X8 + X8
2 X PCI-E X1
LAN chips are Atheros GbE and Intel GbE LAN.
It builds in Realtek ALC898 audio chip supporting 7.1 channel and High Definition Audio technology.
Design in Taipei
Lower-Right
2 X White SATA by Z77 support SATA3.
4 X Black SATA by Z77 support SATA2.
It supports hybrid RAID 0, RAID 1, RAID 5 and RAID 10. The max performance decides by installed SATA devices.
4 X Gray SATA by Marvell 88SE9172 support SATA3, RAID 0 and RAID 1.
1 X mSATA supports SATA2. If you install mSATA, SATA2 port 5 will not work.
Right hand side is debug LED, MB and SB are dual BIOS switcher, and blue round button is RST_SW.
Upper Right
4 X DIMM DDR3 support 1066/1333/1600/2666(OC) and DDR3 max capacity is 32GB.
It supports Extreme Memory Profile technology. Next is 24-PIN power connector and front USB 3.0 connector.
Upper Left
Z77X-UP7uses new fins design with heat pipe. CPU metal cover is better quality by plating process.
Behind the heat pipe, there are 2 8-pin power connectors for high power consumption usage after OC.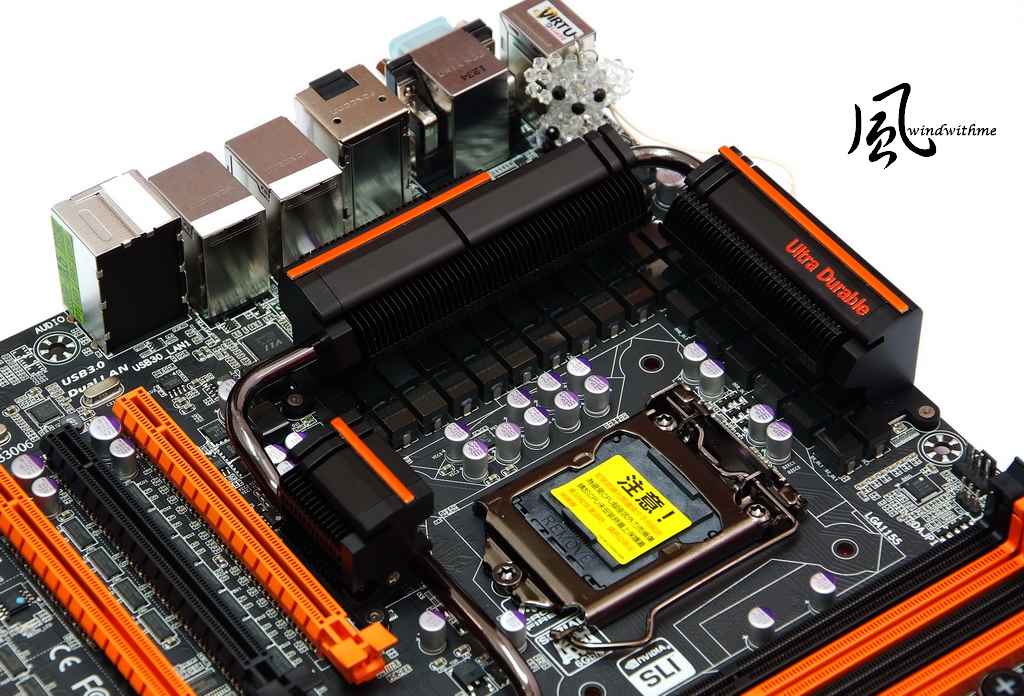 IO
1 X PS2 KB/Mouse
1 X D-Sub / DVI-D / HDMI / DisplayPort
6 X USB 3.0/2.0(Blue)
2 X RJ-45 LAN
1 X S/PDIF Optical output
6 X Audio jacks