These are some very expensive cameras!


Leica O-series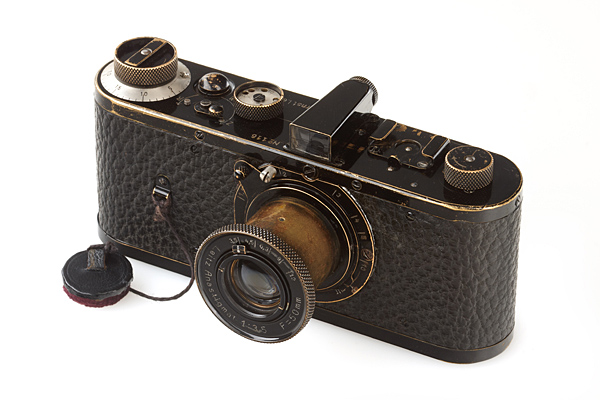 And finally, we have the 1923 Leica O-series model that went for literal millions
back in 2012
at the 21st WestLicht Camera Auction in Vienna, smashing both the record for the most expensive camera and specialists' estimates that it would go for around $775,000. One of only 12 that survive, the O-series camera was bought by an unnamed collector and will presumably end up in his or her loft somewhere.
How much?
About £1,767,870 (originally $2.79 million), or about the same price as four and a half gold-plated Leica Luxus IIs. (Though their value may depreciate when they're cut in half. We haven't checked.
World's oldest commercial camera - that doesn't actually look like a camera!
The discovery of a daguerreotype camera in a German attic led to be it being a
uctioned off for almost $800,000
, which is as good an argument for getting around to cleaning the loft as we've ever heard. Experts deemed it was likely built before 1839, and was therefore possibly the oldest surviving commercially produced camera in the world.
How much?
£502,689 ($792,333), or about the same price as 25,147 rolls of loft insulation.
This one looks more like a telescope than anything else!
Sigma APO 200-500 f2.8 EX DG Lens - Canon Mount

$30,250.00 - and its only a lens!

This lens can be mounted on Canon or Nikon DSLR cameras.
Eg. a Canon 5D

Overview
Sigma APO 200-500 f2.8 EX DG Lens ultra telephoto zoom lens in Canon EOS mount offering F2.8 fast aperture at 500mm focal length

Description

This ultra telephoto zoom lens offers a fast aperture of F2.8 at the 500mm focal length and F5.6 at the 1000mm. It covers widely used focal lengths from 200mm to 500mm and has a large aperture of F2.8 throughout the entire zoom range.

This lens can be used to create amazing image expression with various types of photography such as astrophotography, portraits, wildlife, sports. SLD (Special Low Dispersion) glass and three ELD (Extraordinary Low Dispersion) glass elements provide excellent correction for all type of aberrations.

The super multi-layer coating reduces flare and ghosting and provides high image quality from the extremely large aperture. The lens hood, designed exclusively for this lens, blocks out extraneous light.

A 72mm filter can be inserted at the rear of the lens, and a circular polarizing filter can be used in situ thanks to the ingenious internal rotation mechanism. The dedicated Li-ion battery BP-21 is used to power the zooming and AF operation. This battery is built in the lens barrel. For the convenience of the photographer, focusing distances and focal lengths can be viewed on the lens` built-in LCD panel.

Key Features

- The ultra telephoto zoom lens that offers a fast aperture of F2.8 at the 500mm and F5.6 at the 1000mm focal length using a Sigma 2x Extender.
- The dedicated "Attachment" ensures autofocusing at the 1000mm focal length.
- SLD and three ELD glass elements provide high image quality from the maximum large aperture
- Supplied with f72mm filter holder at the rear


Sorry excuse the formatting, it is obvious that I'm new to this!