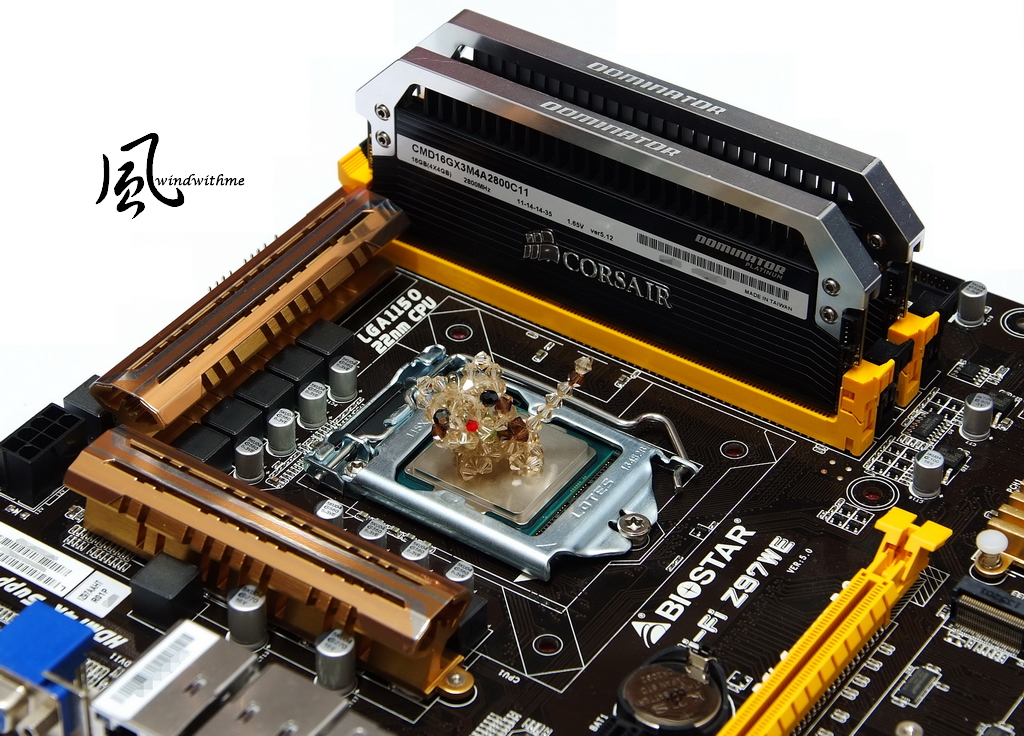 Earlier this year, Intel released a new generation of high-level platform,
using the same pin LGA 1150 chipset name to raise to nine series, and the highest level Z97 is as the current each MB brand's main product.
The CPU followed Haswell Refresh version of the chipset launched by Haswell architecture and the CPU looks like seemingly small change,
which may be doing to prepare for the second half of Haswell-E.
Otherwise Extreme positioning of LGA 2011 CPU will be slower one generation than higher-level LGA 1150 structure,
with the feeling of a little strange when matching, but also to indirectly make LGA 2011 market more narrow.
The MB new R & D is very slowly, and it is expected that the future platform for Intel dual consumption can catch the latest architecture, allowing the Intel Extreme platform more competitive.
Back to one of these dual protagonists in this test is BIOSTAR Hi-Fi Z97WE which carton packaging is changed to black, red and yellow color-based, and flagship Hi-Fi design is quite conspicuous.
Personal recommendations are further to reduce the number of board carton volume, and you can increase exquisite sense and can also reduce some freight.
For another protagonist Intel Core i5-4690K in the architecture of code-named Devil's Canyon Haswell Refresh,
with K behind the code for the highest level version of Core i5, it has the adjustment function of the multiplier.
4690K total clock is 3.5GHz, to support Turbo Boost Technology, up to 3.90GHz performance.
Physical 4 Cores is four threads, referred 4C4T, and built-in HD Graphics 4600 GPU which is as 22nm process as Ivy Bridge,
with the power higher than 88W, and 6MB of total L3 Cache.
The Overview of the Back
The left for the Haswell Refresh architecture Core i5-4690K
The right for the Haswell architecture Core i5-4670K
In addition, different Revision can be seen from the back, and the cooling material has been changed according to information on the Internet,
The following will do detailed testing, so users can better understand the performance of Devil's Canyon.
Not as in the past with black and blue color, this back Hi-Fi Z97WE two color instead of black and yellow
Size is 30.5cm x 24.4cm, general ATX common specifications
Most PCI-E and DDR3 DIMM sockets using yellow appearance
Mosfet area with Z97 chipset cooling module is the use of golden yellow, it seems the overall appearance is good
Included in the English manual, driver software CD, IO tailgate, black SATA cables and Hi-Fi Description Paper
The left bottom of Motherboard
2 X PCI-E X16 3.0, the highest support for AMD CrossFireX technology, bandwidth of X8 + X8
2 X PCI-E X1 2.0
2 X PCI
Dual-network chip is Realtek RTL8111G, supporting dual network Teaming Technology
Sound chip is Realtek ALC892, up to 8-channel Blu-ray Audio, equipped BIOSTAR Hi-Fi technology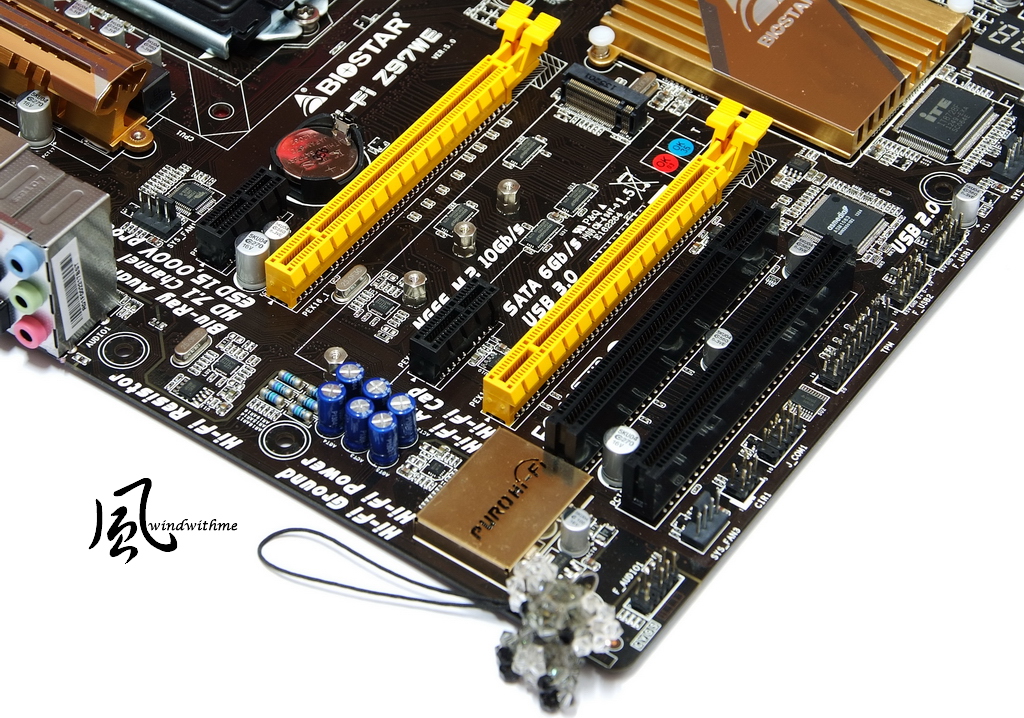 The right bottom of motherboard
6 X Black SATA, Z97 chipset provided, SATA3 specifications
The above can be mixed build RAID 0, RAID 1, RAID 5, and RAID 10, the highest performance decided in accordance with SATA devices
The right upper of Motherboard
4 X DIMM DDR3, supporting DDR3 1066 ~ 1600/1866 ~ 2800 (OC)
DDR3 capacity can support up to 32GB, supporting Extreme Memory Profile technology
The left Black is for the front USB 3.0, and the below is 24-PIN power input