Most Gamers use game console or computer to play many games.
For PC game users, 3D games' video and audio effects are very important.
First of all, for better visual effects, the users need good VGA and large LCD monitor.
For the audio, I suggest hi-end audio chips and Gaming speakers for better audio.
If you use computer long time every day, I think LCD, Keyboard and Speaker are worth to invest.
Many people use their monitor, keyboard and speaker for 5~10 years.
Investing better quality peripherals can let you feel more comfortable and longer life.
These peripherals contact your sense directly. Better equipment can avoid your uncomfortable feeling.
USA CORSAIR recently launched several audio devices. You can find the headset and speaker product line in their website.
This review is Gaming Audio Series. The model is SP2500 High-power 2.1 PC Speaker System.
You can clear understand it focus on gaming market. It should be a good option for gamers.
SP2500 is official 2 years warranty.
The box dimension is 57(Length) X 49(Width) X 40(Height) cm
As the box is bigger, the space and protection are quite good.
SP2500 is 2.1 channel PC speaker system. The pic below is Subwoofer.
8 inches 120W. It bridged dual 60 Watt class-D amplifiers with integrated DSP for 120 Watts of power.
Fourth-order closed bandpass design with durable rubber surround.
The dimensions are 46 x 25.8 x 29.7 cm. It's quite big size which we consider to computer speaker.
The manual has notice that user should allow 25cm clearance from Subwoofer to object.
SP2500 is one Subwoofer and 2 satellites.
It also has 1.8" LCD wired desk controller. Users can adjust the volume easily.
Accessories
Multi-lingual installation guide and other information
Cables
Start from Left, Power Cord/3.5mm, Stereo Cable/RCA, Audio Cable /ATX4, Satellites Speaker wire
1.8" TFT controller and satellites base
The desktop controller has 2 jacks.
One is 3.5mm auxiliary inputs and the other is mini USB.
Lower-Right is a 3.5mm headset output.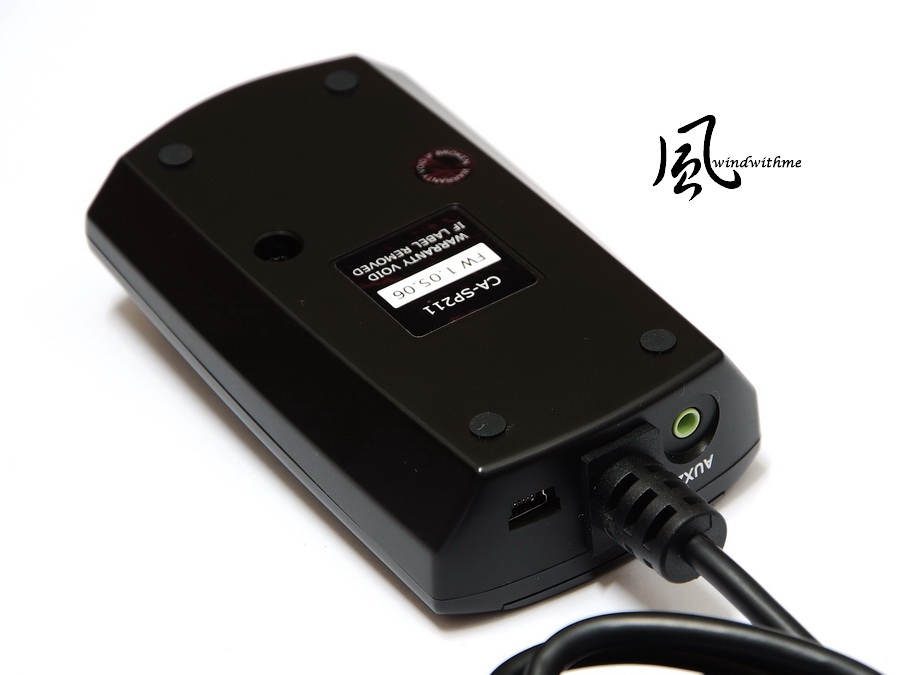 2-Way Satellite Speakers
The dimensions are 10.8 x 12 x 15.9 cm. The actual weight is 924g. The case is made from good quality plastic.
Front bottom with block up part, the sound can surround the room more widely.
The satellite speaker has round cushion in 4 bottom corners.