Hi There,
I have a very challenging exercise that I want to solve and of course with your help.
My Excel workbook contains two sheets.
Sheet 1 is my main sheet.
The cells in the first column (A) contain all the different codes.
And I am trying to check if this cell contains specific text.
In my example, the codes I am trying to search are listed in sheet 2. (e.g. 736, 739, H01, H05)
Meaning: If a Cell (A2) Contains a Certain Text (e.g. 736 or H05 ...etc.), then Put in cell B2 a Specified Text (Specific Code Name listed in the second sheet)
Sheet 2 contains the table of these codes (source)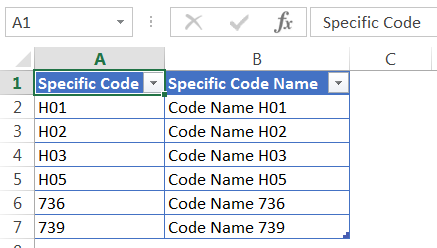 And this is the final result that I am trying to achieve.
Would you please help me with which formula I shall use.
the sample excel sheet is attached as well.
https://drive.google.com/open?id=0B5Bsj_BKKw_KZ2hxYktIQk1YaDA
Thank you in advance.