Intel just launched the latest Haswell platform this June, PC and NB brand keep refreshing their product lines, the Notebook platform runs faster than before,
there are lots of new platform products in the market right now. MSI focused on the high performance and gaming platform, and refreshed very fast too.
MSI NB main product line is Gaming series, they also come out latest GE40 as 14" gaming laptop.
For Top Level still keep GT70 and GT60, High Performance gaming will be GE70, GE60 and GE40.
Since MSI performance gaming notebooks are same price range as regular high end notebooks,
but they still presents more features and performance advantages on gaming notebooks field.
This time I got GE60 2OE, the latest performance level gaming notebook.
The A cover looks like Dragon beard, will reflect different color style with different angles.
Top cover used glossy cover design, the good point is vivid and looks shinning,
the bad part is easy to scratch. They use laser reflect and red lines to increase the design style and speedy feeling.
Inside accessories
Driver CD, quick manual, clean up cloth and 2 years warranty card.
Up side one is gaming style mouse, it's optical designed, but still good positioning on cloth,
the red light will breath when use, handling feeling is also good, it will be better if enhance to laser mouse.
Below is the battery with 4400mAH 6 cell design.
Adaptor was made by Delta, it's good quality one from power supply brands, up to 120W, this one is slimmer than regular 120W adaptors, only 2.5cm.
The placement of palm rest side
SteelSeries keyboard gives good response feeling when using, also presents higher durability, but GT series keyboard is even better than GE series.
Left 1 button "Cooler Boost" is turbo cooling fan function, left 2 button is keyboard backlit enable with vivid blue light.
The holes on the up side comes with 2 channel speakers.
The platform around keyboard used metallic material design, special cutting makes the shape looks better.
Metal cover gives better touch feeling, and the signal lights at bottom side, the SD card reader on the right side.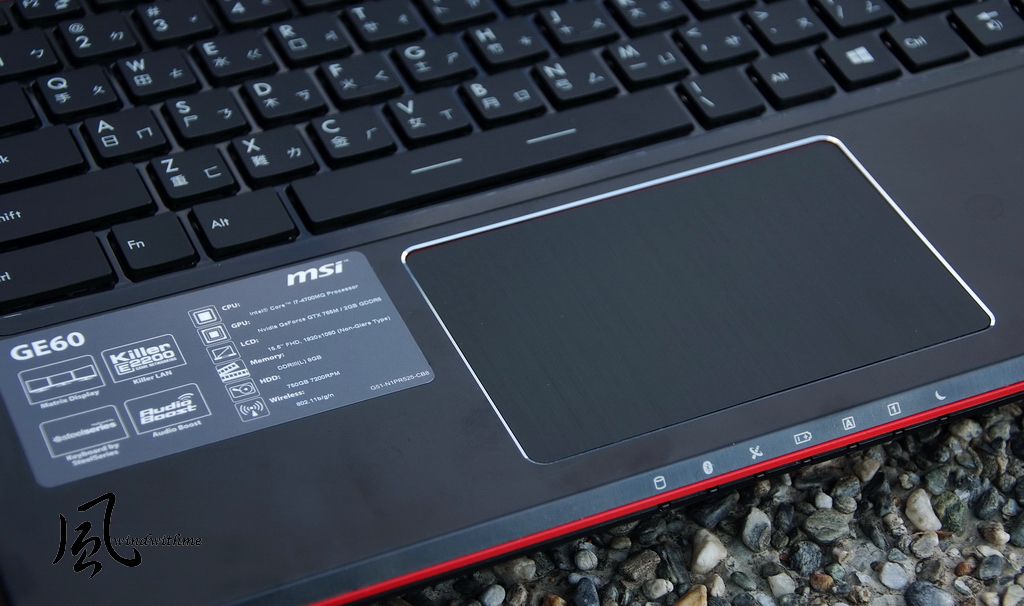 On the left side.
Kensington lock\power input\USB 2.0\HDMI\2x USB 3.0\Line out\Line in\Headphone-out
Here comes the sound quality experience, this is objective point of view, compared with other notebooks at same level.
The sound is loud when adjust the volume to 50%, so don't need to worry about the volume small problem.
High frequency - Not too sharp, rich detail with high class sound level.
Mid frequency - Transparent sound stage, it will be better if the sound could be stronger.
Low frequency - Good present on mid-low frequency, but no subwoofer means the sound is not so powerful as GT series with subwoofer.
GE60 used total 4 speakers with 2 channels stereo, good performance on the mid and high frequency,
also good on the sound stage and overall sound field. It's not like GT series comes with subwoofer, so the bass and low frequency was not so strong.
Foy my personal opinion, GE is good for music and GT is better for movies.
From left, BD Combo / DVD Super Multi\USB2.0\D-SUB\RJ45 LAN