Joined

Mar 25, 2003
Messages

7,424
Reaction score

1,511
Legit Reviews have been taking a look at the ASUS MARS 760 4GB Video Card - here's their intro:
"We review hundreds of PC components and accessories every year and it can get boring at times. After you've reviewed a couple hundred video cards, they all start to blend together as most are very similar and differ by just the GPU cooler and clock speeds. Whenever we hear that ASUS is coming out with a Republic of Gamers (ROG) series card we get excited. ASUS ROG series cards have always been fully custom designed cards that greatly differ from what AMD and NVIDIA have already brought to market. The ASUS ROG MARS series is for NVIDIA powered cards and the ASUS ROG ARES series is for the AMD powered cards. Today, we'll be looking at the ASUS ROG MARS 760 4GB Dual-GPU video card that is sold under part number MARS760-4GD5. The ASUS ROG MARS 760 is a single card that features two of NVIDIA GK104 'Kepler' GPU's, so it is basically dual GeForce GTX 760 card running in SLI. ASUS claims that their MARS 760 card can outperform the NVIDIA GeForce GTX Titan and that this card is aimed at 2560×1440 (WQHD) gamers, but will also work great for those running 1920×1080 and 2560×1600. This card isn't really going to work well for those 4K displays or large multi-monitor setups as there is just 2GB of frame buffer allotted to each GPU. This card has a total of 4GB of memory, but that memory is not shared between the two GPU's just like a traditional NVIDIA SLI multi-GPU setup. So, you'll be getting an ultra high-end gaming experience on the ASUS MARS 760 with buttery smooth frame rates with the only caveat being the 2GB frame buffer."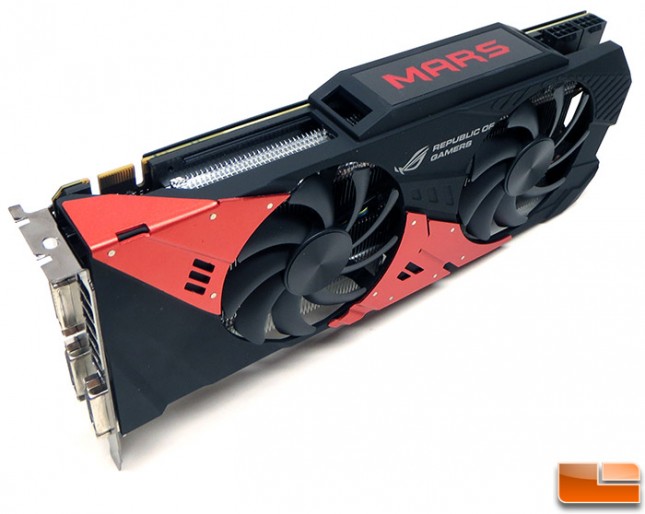 Read the full review
here
.