Intel launched 4th chipset for Sandy Bridge in May. It's Z68 which is familiar to many users.
Z68 chipset is most high end one for Sandy Bridge. You can OC and have GPU output.
Z68 is integrated with P67 OC function and H67 multi graphic output features.
Even though Z68 doesn't have great OC ability as Internet rumors, it actually adds 2 new technologies.
It really helps for data transfer and multimedia performance.
The First is Intel Smart Response Technology which using small capacity SSD to speed up HDD OS and software.
The other is Lucid Virtu GPU virtualization technology. Users can switch between built-in GPU and external graphics card.
For the market price, Z68 MB is the most expensive Sandy Bridge products.
However, the price gap between P67 is not big. Basically, the same level P67/Z68 products, the price gap is only 18USD.
For users who set budget for mid-high Sandy Bridge MB, Z68 MB C/P value should be higher.
CPU uses LGA 1155 most high end Intel Core i7-2600K.
K series mean it unlock the frequency. In 1155 platform, there are only 2500K/2600K.
Intel new Logo packing. The box is smaller than last generation which is more green.
Inside box are CPU, original cooler, product manual and logo sticker.
Intel 4 Cores CPUs most use copper bottom coolers.
2600K clock is 3.4GHz which support latest Turbo Boost 2.0 technology to achieve 3.80GHz performance.
It's physical 4 Cores with Hyper-Threading. There are total 8 threads which is known as 4C/8T.
32nm and 95W power consumption. L3 Cache is 8MB and it's LGA 1155 most high-end CPU so far.
GIGABYTE Z68X-UD7-B3
Since LGA 1155, GIGABYTE makes color change in their mid-high products.
It's all black design. The PCB, DRAM and PCI slots are all black. Especially, the PCB is matt for better looking.
So far, GIGABYTE all black version is starting from UD3R and UD3P to UD4/UD5/UD7.
The others which are like D3, UD3, DS3 or even lower, they are still traditional blue PCB.
Of course, I think blue PCB is still ok. I am more caring about the components and design.
Some users feel high end MB must be black, because it looks with better texture. That's why there are many black MBs in the market.
Accessories
Product Manual, Software Guide, Driver CD, I/O panel, CrossFireX/SLI bridges.
SATA cables, front 3.5" USB 3.0 panel, external eSATA Port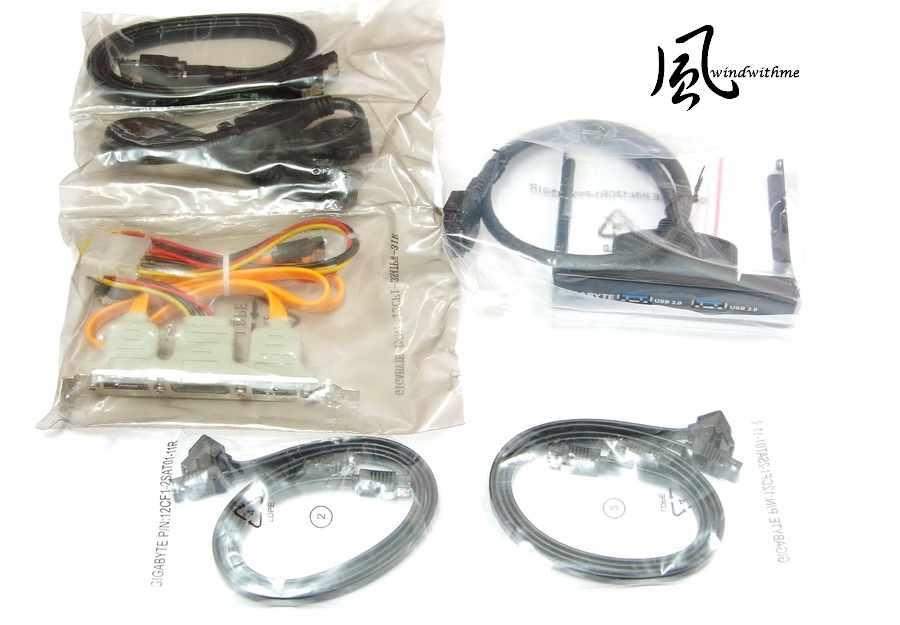 Lower-Left Corner
4 X PCI-E 2.0 X16 slots support 2Way/3Way ATI CrossFireX/NVIDIA SLI technology.
PCIEX16_1 and PCIEX16_2 bandwidth are X16. PCIEX8_1 and PCIEX8_2 bandwidth are X8.
1 X PCI-E 2.0 X1
2 X PCI
2 X Realtek RTL8111E LAN Chip supports Teaming and Smart Dual LAN.
Realtek ALC889 audio chip supports 7.1 channel and Dolby Home Theater technology.
Lower-Right Corner
2 X White SATAIII provide by P67.
4 X Black SATAII provide P67.
You can hybrid use. It supports RAID 0, RAID 1, RAID 5 and RAID 10.
2 X Gray SATAIII provide by Marvell 88SE9128. It supports RAID 0, RAID 1.
Lower-Right corner is debug LED to let user understand the hardware status during boot.