I still remember Intel launched the 1st Core i7 platform in Nov 2008 to depart from Core 2 Duo structure.
The 1st Core i7 chipset is X58 and CPU socket is LGA 1366 which position in extreme segment.
In mid 2009, Intel launched same structure with LGA 1156 socket which is mid to high end market.
Early this year, the 2nd generation Core i structure, LGA 1155, launched and the position is overlap with LGA 1156.
In the market, there are 3 platforms for Core i7 structure, but the most high-end is still X58.
As per the internet news, LGA 1366 product line will be available till end of 2011, and the life cycle will be over 3 years.
The existing time for the platform is catching up LGA 775.
GIGABYTE latest G1-Killer X58 series has 3 models, G1.Sniper, G1.Guerrilla and G1.Assassin
Even though this is late X58 products, if you use Intel latest Core i7-990X, it's still the most top LGA 1366 platform.
Of course the cost is also high end market level.
G1.Assassin is the most high-end model of G1-Killer series.
The form factor is XL-ATX, 34.5cm x 26.3cm. The XL-ATX Case is still rare in the market.
The pantone is black and green. This is the first time for GIGABYTE MB.
There are 5 Smart Fan headers. The users can control the chassis temperature more efficiently.
G1-Killer is also the first GIGABYTE Gaming series MB.
In the past, many brands used to launch gaming series high end boards.
No matter components usage and features, G1.Assassin is really fit for Gaming. You will see the detail as following my further introduction.
Accessories
Product manual, Software manual, Driver CD, I/O shield, SATA cables and CrossFireX/SLI bridge
G1-Killer poster and stickers
Front Access Control Panel
It offers 2 USB 3.0 and 1 Power eSATA
Left side Quick Boost button can switch user to OC mode to enhance the system performance.
Lower-Left Corner
2 X PCI-E X16 support X16 bandwidth
2 X PCI-E X16 support X8 bandwidth
The PCI-E can support up to 4-Way ATI CrossFireX and 3-Way NVIDIA SLI
2 X PCI-E X1
1 X PCI
Bigfoot Killer E2100 LAN chip
Creative CA20K2 Audio chip supports Dolby Digital Live, DTS Connect, X-Fi Xtreme Fidelity and EAX Advanced HD 5.0 technology.
It supports up to 7.1 channel and High Definition Audio.
Design in Taipei
Lower-Right Corner
6 X black SATAII, provided by ICH10R, SATA2 and support RAID 0, RAID 1, RAID 5 and RAID 10
2 X white SATAIII, provided by Marvell 9182, SATA3 and support RAID 0, RAID 1
2 X 16 Mbit flash, Dual BIOS, dual protection.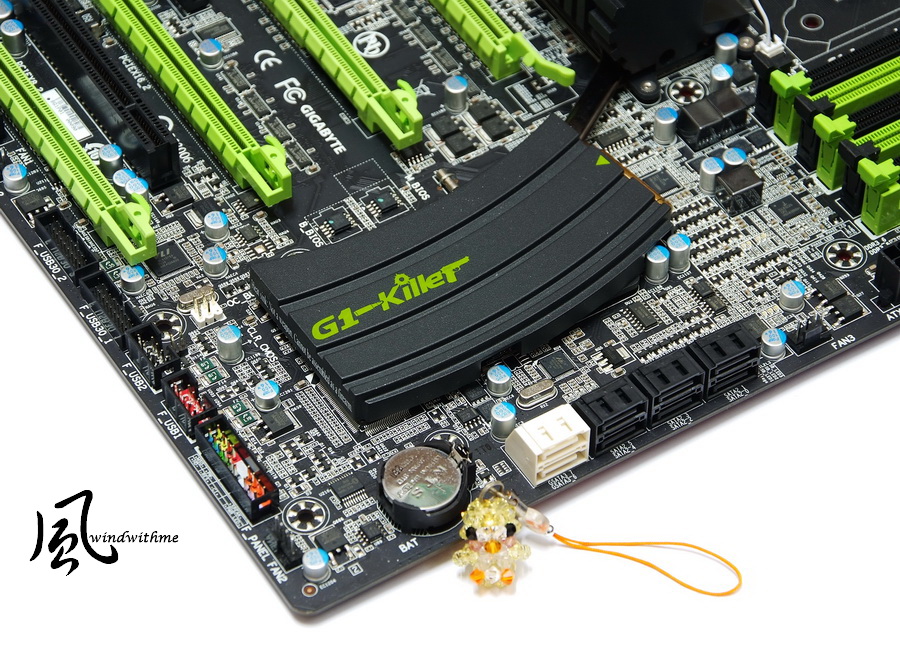 Upper-Right Corner
6 X DIMM DDR3 support 800/1066/1333/2200 and max capacity is 24GB
DDR3 has 2 phase PWM and next is 24-PIN power connector
Upper-Left Corner
LGA 1366 CPU Socket, CPU metal cover uses plating one
G1.Assassin uses 16 phases PWM and support dual 8 phases power switching mode.
It needs GIGAYTE Dynamic Energy Saving (DES2) software to enable the dual power switching function.
Back is two 8 PIN design for enhancing system stability under high loading condition