Intro
ECS ECS ECS...... my first ever motherboard was an ECS.... and it was awesome. It never missed a beat. It was a billion years ago and since then, well... ECS just kinda faded out of the enthusiast space and no-one really cared. They spent some time focussing on low-end/entry level stuff. No bling, no presitge.
BUT! that changed and ECS started putting work into pleasing-on-the-eye boards that performed. The Black series raised a few eyebrows and now we have been offered the Golden Board series. It's....not a subtle series name, but sometimes ya gotta be noticed to be noticed.... if you know what I mean.
Box, packaging, accessories
From the first glance in the direction of this box, it catches your eye. If you're in a well-stocked hardware shop, this box STANDS OUT.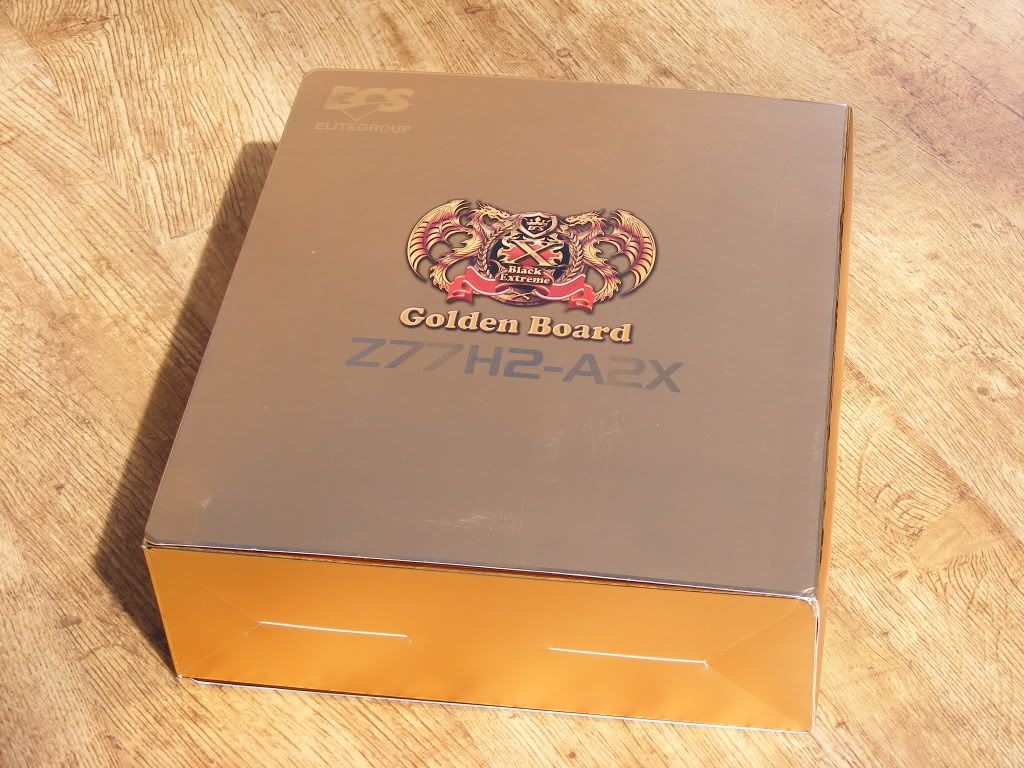 ECS are definitely taking the Gold theme seriously.
The box has velcro-stuck flip-lids on both sides, which open up to promote features of the board and the technology in it. Mine was cellophane wrapped....which makes them pointless. I hope shelf stackers are bright enough to see that as external packaging to be removed.
Gold gold gold and marketing hype.... but the gold makes the marketing a little more triumphant, if you know what I mean. Psychology at work. Present it like it's the best, you start to believe it....even if some of the features are present in every single Z77 board. (Lucid, PCI-E 3.0 etc)
Opening up the box, the contents are split into two trays...inside another box. The mobo itself sits in an open-topped shallow box (so it can sort-of be seen through its anti-static bag and the acetate of the outer box,) while all the accessories are packed in their own box. Each box has a cut-out for the carry handle, which is a simple touch but it really does make the handle easier to pack away
The bundle is, overall, functional but pretty standard. The bag of blanking caps for ports is unexpected. The USB3 panel is nicely finished, although of course, it won't colour-match every case.
More to come.