Posted by Becky on 11th Mar 2014 - 0 Comments

Benchmark Reviews have been taking a look at the Corsair Raptor K40 Gaming Keyboard - here's a snippet:



Quote:

"Mechanical keyboards such as Corsair's Vengeance K70 keyboards have garnered praise from industry pundits and users alike. But there's no escaping the fact that keyboards with individual mechanical key switches are expensive: the aforementioned K70 retails for $130.00. But as it turns out, you can get much of the style and functionality of Corsair's high-end keyboards for a lot less money. Today Benchmark Reviews takes a look at Corsair's Raptor K40 Gaming Keyboard.

Corsair's CH-9000051-NA keyboard attempts to strike a balance between features and cost: it does this by eliminating "peripheral" features like a braided cover on the USB cable, metal construction, USB pass-through ports, a wrist rest, and most importantly, mechanical key switches. Although they've been increasing in popularity, there's no getting around the fact that mechanical key switches are expensive, so the Raptor K40 Gaming Keyboard uses a rubber-dome design to keep the cost down."

Read their full review here.


Posted by Becky on 10th Mar 2014 - 0 Comments

Hot Hardware have been taking a look at the 2014 Dell XPS 13 Ultrabook, and it seems they are particularly impressed with it's battery life:



Quote:

"Dell aims to give users a premium mobile experience with the company's XPS line of laptops. Not long ago, we had some hands-on time with Dell's XPS 15 and really liked it. Last year, we also took a look at the 2013 version of Dell's XPS 13. Here again, we had many positive things to say of Dell's top shelf ultralight 13-inch machine.

Today we're going to take a look at the latest version of the XPS 13. This updated version has not been redesigned, but it does include a new, larger capacity battery (55WHr compared to the previous 47WHr battery). And along with Intel's 4th generation Haswell Core series processor for more efficient computing, Dell claims the new XPS 13 can deliver up to 11 hours of wireless web browsing on a single charge. Other key updates for this iteration of XPS 13 includes an optional 13.3-inch touch-enabled 1080p display and Windows 8.1."

Read more here.


Posted by Becky on 7th Mar 2014 - 7 Comments

Hardware Heaven have reviewed the Corsair Obsidian 750D Full Tower Case - let's take a look:



Quote:

"It can be said Corsair know a thing or two about cases and the 750D is no disappointment in the looks department, offering a sleek and modern exterior. The bringing together of steel and brushed aluminium face plate works well. What works a little less well is the plastic surround at the front, while it is of high quality it would almost certainly be better made from aluminium as seen on earlier cases such as the 700D, arguably tho the 700D hit a higher price point at the time of release. The front panel itself looks great, until you have to install an optical drive, maybe Corsair are pre-empting the demise of optical media, but chances are your system will have one and for this reviewer the recessed appearance and plastic spaces to the side distract from the overall high class appearance."

Read more here.


Posted by V_R on 6th Mar 2014 - 4 Comments
Quote:
The next major version of Microsoft's DirectX API will be unveiled at GDC 2014 on March 20, according to the company's DirectX developer site.
DirectX 12 will be detailed by Anuj Gosalia, development manager for graphics at Microsoft, in a sponsored session titled "DirectX: Evolving Microsoft's Graphics Platform." The official GDC website offers the following description of that talk:
For nearly 20 years, DirectX has been the platform used by game developers to create the fastest, most visually impressive games on the planet. However, you asked us to do more. You asked us to bring you even closer to the metal and to do so on an unparalleled assortment of hardware. You also asked us for better tools so that you can squeeze every last drop of performance out of your PC, tablet, phone and console. Come learn our plans to deliver.

Microsoft has another session, to be given by Windows Graphics development lead Max McMullen, that focuses on "Direct3D Futures."
"Come learn how future changes to Direct3D will enable next generation games to run faster than ever before," the session's description reads. "In this session we will discuss future improvements in Direct3D that will allow developers an unprecedented level of hardware control and reduced CPU rendering overhead across a broad ecosystem of hardware."
Eight talks dedicated to DirectX 11 are also planned.
A DirectX 12 Twitter account tweeted today that "Rumors of our demise have been greatly exaggerated," and that the next version of the multimedia programming interface would be exposed at this month's Game Developers Conference. A teaser page shows AMD, Intel, Nvidia and Qualcomm logos, indicating those companies will support the latest version of Microsoft's API suite.
The last major version of the DirectX API was released for Windows in 2009.

Source: Microsoft
http://www.polygon.com/2014/3/5/5475...osoft-gdc-2014
Posted by Becky on 5th Mar 2014 - 0 Comments

The SSD Review have been taking a look at how the ASRock Z87 Extreme11/ac motherboard performs with eight HGST SSD800MM SAS 12Gbps 400GB enterprise SSDs:



Quote:

"Through use of the LSI SAS 3008 PCI Express 3.0, 8-port, 12Gb/s SAS and SATA I/O controller installed on the Extreme11/ac, up to eight 12Gbps SSDs can be connected to the motherboard and set up in a RAID environment. That is what we will be reporting on today. In addition, there is also a LSI 3x24R expander present on the device that allows the connecting of up to 16 SATA 3 SSDs to these ports, in place of the 8 12Gbps SSDs. Would you believe we have 16 SSDs on the way for testing? Stay tuned!"


Read more here.


Posted by Becky on 4th Mar 2014 - 0 Comments

Pure Overclock have reviewed the ASUS Z87 WS Motherboard, and here's a snippet:



Quote:

"In the world of custom PC Building, consumers and builders frequently ask what the best motherboards are for Gaming PC Builds. While these are always valid questions, some folks are looking to build a high end rendering or workstation PC. The Z87 series chipset has plenty of options from the budget friendly models to enthusiast gaming motherboards; however, workstation motherboards are not as readily available.

That changes today. We are going to be looking at a motherboard from ASUS, one of the few manufacturers who created a Z87 chipset based WS (workstation) motherboard to meet this niche market. We have the ASUS Z87 WS on our test bench, and we are going to put this baby to through the ringer.

As an interesting aside, one of the few features of this motherboard which immediately caught our attention is the available support of Quad SLI and Crossfire with 4 PCIe slots available. Not many Z87 motherboards offer this out of the box. There are also tons of other features that we typically don't see with your "typical" Z87 chipset motherboard. Does this bode well for this unique new board? Read on to find out!"

Read their full review here.


Posted by Becky on 3rd Mar 2014 - 0 Comments

Vortez have had the OCZ Vector 150 240GB on their test bench recently, here's a snippet from their review:



Quote:

"Most enthusiasts have now embraced SSD technology and it is fair to assume that those who have may have experienced degradation of their drives over a period of time lowering the effect of that once blisteringly fast upgrade to one which is more akin to a mechanical hard drive. Ok, maybe not THAT slow but it will likely have slowed a good percentage. It is to this end that OCZ are marketing the Vector 150 as a drive that is built to combat this eventual slow-down. It is all very well being the fastest drive on the planet when you first hook it up to your machine but can it still compete with the field? Unlikely if it suffers from degradation to such an extent that it loses not only to the new releases on the market but also those it formally competed against.

The Vector 150 is rated for an industry-leading 50GB/day of host writes for 5 years (typical client workloads) makes this SSD top of the class in terms of durability. Couple this with next generation 19nm MLC NAND flash along with Proprietary Barefoot 3 controller technology and the OCZ Vector 150 SSD is set to boast phenomenal speed with matching durability."

Read more at Vortez


Posted by Becky on 28th Feb 2014 - 0 Comments

eTeknix have been taking a look at the PC Specialist 'Vanquish 230XT' Gaming System which currently retails for £1137:



Quote:

"The Vanquish 230XT that we've got in today comes with a delivered to your door price tag of £1137.00 inc VAT and inside it packs a strong mix of mid-to-high range components that have a better bang-for-buck appeal to them over some of the top end components that we see out there on the market today. Built onto an Asus Z87-A motherboard we have an overclocked and water-cooled quad-core 4670k running at 4.2GHz, teamed up with 16GB of 2400MHz HyperX Beast Memory from Kingston and an AMD R9 280X graphics card ready to deliver a joyful gaming experience. On top of all of that we get a 120GB HyperX 3K SSD and a 1TB hard drive for all of your games and media content to go on and all of this is packed into a budget friendly 230T mid-tower chassis from Corsair."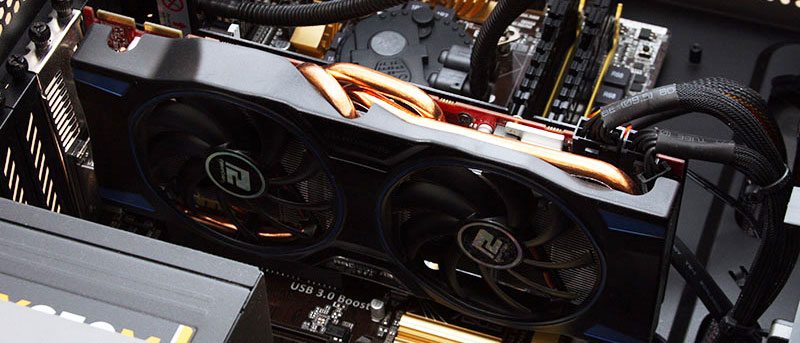 Read their full review here.