Posted by Ian on 28th Jan 2015 - 0 Comments

Toms Hardware have a review of the Samsung U28D590D 28-Inch Ultra HD Monitor, one of the increasing numbers of high end displays:



Quote:

Asus changed the segment enormously when it unveiled the PB287Q back in May of 2014. Suddenly you could buy a 4K screen for only $600. The only downsides were that the panel was four inches smaller and it employed old-school TN technology. Despite that, it inspired other major manufacturers to craft their own versions. Today we're looking at the fifth such display in our lab: Samsung's U28D590D.

Read the review here:
http://www.tomshardware.com/reviews/...itor,4033.html


Posted by Ian on 26th Jan 2015 - 0 Comments

KitGuru review the Gigabyte X99M-Gaming 5 mATX Motherboard, a tiny but high end motherboard for gamers:



Quote:

Gigabyte's X99M-Gaming 5 delivers many of the X99 platform's core features, despite its micro ATX form factor. Support for two-card SLI/CrossFire is present, and there's also the ten SATA 6Gbps ports for storage nerds. And let's not forget two additional forms of PCIe storage in M.2 and SATA Express.

Homing in on the gaming market, Gigabyte outfits its mATX board with a Killer NIC and the accompanying software for users to take advantage of network optimisation. There's also the enhanced audio system that allows for an upgrade to the already-high-end Burr-Brown operational amplifier. And if you own a set of USB headphones, the 'DAC-UP' USB ports are designed to deliver cleaner power to the amp.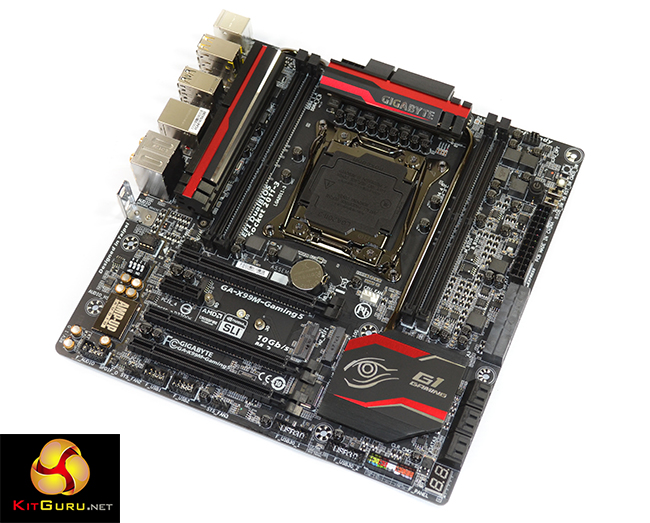 Read the review here:
http://www.kitguru.net/components/mo...rboard-review/


Posted by Ian on 22nd Jan 2015 - 2 Comments

HardOCP have a review of the Corsair CX750 750W Power Supply, designed as an entry-level PSU:





Quote:

Corsair is known in enthusiast circles as a supplier of high performance memory and has risen to become one of the most talked about power supply brands around. Corsair was initially able to establish a presence in such a short time through the use of quality OEM's (Seasonic and CWT), rigorous standards, and excellent support. Since its entrance into the PSU field, it has established a number of lines of power supplies of varying quality to address (and overlap) just about every market segment. Today, we have the first unit we have seen from Corsair's CX line; the CX750 (CP-9020015-NA). This unit is once more produced in conjunction with CWT.

Read the rest here:
http://hardocp.com/article/2015/01/2..._supply_review


Posted by Ian on 19th Jan 2015 - 1 Comments

KitGuru check out the ASUS PB279Q 4K Monitor, a 27" beast which can handle 4 input sources:



Quote:

The Asus PB279Q delivers a clean, crisp image and will certainly help the company cement their footing within the Ultra HD 4K market. If you are thinking of ditching that old TN panel to move into the world of IPS screens, then the benefits are easy to quantify. IPS panels are able to deliver superior viewing angles, as well as more vibrant, richly saturated colours. The Asus PB279Q excels with colour reproduction and rates quite closely to some of their Pro Art screens that I have analysed.

The onboard speakers are rather feeble, as we would expect, but in an office environment they will be welcomed. General alerts and basic speech is acceptable, although external speakers will be a prerequisite for beefy, full rounded audio output.

Read the review here:
http://www.kitguru.net/peripherals/m...onitor-review/


Posted by Ian on 13th Jan 2015 - 0 Comments

Legit Reviews check out the Creative Sound Blaster ZxR, the latest in this long and popular series of sounds cards:



Quote:

Creative Labs is perhaps the most well-known sound card vendor amongst PC gamers. Their Sound Blaster product family includes the longest running series of consumer sound cards out there and has been talked about by gamers for years. Typically we come across remarks that praise the high quality audio and unmatched proprietary virtual surround processing of Sound Blaster card, but hit-or-miss driver stability which fortunately we didn't experience. Recently, we've gotten the opportunity to review the entire Sound Blaster Z-series, Creative's most recent generation of desktop cards, to share if they're right for you. This review focuses on the flagship Sound Blaster ZxR.

Read the review here:
http://www.legitreviews.com/creative...-review_155706


Posted by Ian on 7th Jan 2015 - 0 Comments

HardOCP have a review of the Swiftech H220-X CPU Liquid Cooling Kit, an all-in-one solution that impresses the reviewer:



Quote:

Today we are looking at a Swiftech All-In-One CPU cooler, aka AIO, from a company that has pioneered water cooling in PCs since its inception twenty years ago. We looked at our first Swiftech product about 13 years ago. Swiftech is practically a household name when it comes to water cooling circles. Generally, Switech components are preferred by most enthusiast class users but it is here today to change that perception.

The H220-X is one of Swiftech's first all-in-one kits that brings the extreme level of cooling you'd expect from Swiftech and matches it to the ease of installation we've come to expect from an AIO. There has been a lot of new competition in the AIO market in recent years from companies such as, Corsair, SilverStone, Thermaltake, and Antec. Can Swiftech make a spot for itself in a market it practically created? Let's see if the H220-X is the answer.



Posted by Ian on 5th Jan 2015 - 0 Comments

TechGage check out the Western Digital Red 6TB NAS Hard Drive, specifically aimed at consumer grade NAS units in RAID configurations:



Quote:

Both of WD's 6TB hard drives – Green and Red – are priced at ~$265. While the Red series can work fine in a regular desktop, it's recommended that the Green series is opted for instead, since it has error correction activated by default, whereas the Red series does not (for the sake of not getting in the way of the NAS RAID controller's error correction). Usually, the Red series costs a bit more than Green, but we're just not seeing that right now with the 6TB drives. What about the other densities? And for that matter, how does Seagate factor into all of this?

Read the review here:
http://techgage.com/article/wd-red-6...-drive-review/


Posted by Ian on 2nd Jan 2015 - 0 Comments

Anandtech have a new year review of the high-end ROCCAT Ryos MK Pro Mechanical Gaming Keyboard, costing around £150:



Quote:

ROCCAT is a well-known manufacturer of gaming peripherals and equipment with a notable global market presence. The company was founded in 2007 in Germany and today they also have offices in Taiwan and the US. With a strong focus of the company on gaming keyboards, mice, and headsets (with very few exceptions), ROCCAT has built a solid and widespread reputation for a company that is only seven years old.

The company has been very conservative about the products they release, trying to ensure that they are going to excel and survive in the ever-changing market for a long time, rather than just having a flashy release of a product that will be replaced/upgraded every few months. For example, over a year and a half ago we had a look at the Kone XTD and Kone Pure gaming mice, which still are among the best gaming mice ROCCAT offers today and remain excellent nearly two years after their release.

Read the rest here:
http://anandtech.com/show/8807/rocca...capsule-review