Posted by Becky on 3rd Dec 2013 - 0 Comments

Bjorn 3D have reviewed the Biostar Z87X 3D Motherboard which they describe as being 'a good performer for the budget user':



Quote:

"Today we have Biostar's top Z87 model which integrates their HiFi audio solution for a great audio experience should you use this for a multimedia or gaming board this one should be up for the task.

The one thing that did surprise me is the lack of SLI support which means your talking single Nvidia card or crossfire depending upon your needs, but from what i have seen many users utilize a single card setup anyways especially budget builds so this may be a great low cost solution for a low cost gamer.

The board comes in at a price of $139.99 directly from Newegg at the time of writing which is in the lower and very competitive segment and this tells me that as long as the feature set exists and works this could be an amazing value."

Read the full review at Bjorn 3D


Posted by Becky on 2nd Dec 2013 - 2 Comments

Vortez have reviewed the Corsair Hydro Series H75 CPU cooler which currently retails for around £65:



Quote:

"The age of liquid CPU coolers is well and truly upon is, numerous brands are now involved in this energetic market space none more so than Corsair. Their Hydro Series is a product line which is now synonymous with self-contained liquid CPU coolers and is a range which is responsible for projecting the brand to prominence only a few years ago. In October, Corsair announced a new model within the series named H75 and today we are to look at this new AIO (All-in-One) CPU cooler.

The Hydro Series H75 is a liquid CPU cooler which is comprised of a slim-line 120mm radiator, two SP120L cooling fans and a newly design Asetek pump and mounting system. The Hydro Series has impressed before, can it continue to with this new model?"

Read their full review here.


Posted by Becky on 29th Nov 2013 - 0 Comments

Legit Reviews have taken a look at the Corsair Graphite 230T Battleship Grey Mid Tower Case - here's a snippet:



Quote:

"Corsair has several case lines, Obsidian, Vengeance, Carbide and Graphite. Legit Reviews has been fortunate to have been given the opportunity to take a look at most of these cases. Today, we are taking a look at the latest in the Graphite Series, the 230T mid-tower case line. While the Corsair Graphite series is made up of four models of the 230T, each of them are pretty similar with minor cosmetic differences. These differences are mainly about color, there is the battleship grey, black and orange. There are technically two versions of the black, one with a side window and one without. All four version can be found online starting at $68.99 shipped for the solid side panel black model (no window), and $78.99 shipped for the other three color choices that include the window. So, at the end of the day having a window or if you want a color other than black it will run you an extra ten bucks."

Read their full review here.


Posted by Becky on 28th Nov 2013 - 1 Comments

Kit Guru have reviewed the PCSpecialist Vanquish 230X desktop PC:



Quote:

"As we arrive at the tail end of 2013, there could be no better time to treat yourself to a new system. If you have neither the time nor desire to build a system yourself then respected UK builder PC SPECIALIST have been creating some killer rigs this year.

We asked them what they could build for £999 inc VAT and delivery. In answer, their new Vanquish 230X system arrived with us last week and it features one of the latest Intel Haswell processors and an AMD R9 280X graphics card. But is it any good?

PCSpecialist Vanquish 230X Specifications:

Intel Core i5-4670K @ 4.2GHz
16GB Kingston HyperX BEAST @ 2400MHz
ASUS Z87-A Motherboard
120GB Kingston HyperX 3K SSD
1TB SATA III 6Gb/s HDD
3GB AMD Radeon 280X Graphics
CoolerMaster Seidon 120M Liquid Cooler
Corsair TX650M Modular PSU
Corsair 230T Case (NEW!)
Windows 8.1 64bit"





See what they thought about it here.


Posted by Becky on 27th Nov 2013 - 0 Comments

eTeknix recently reviewed the ASUS Z87I-PRO (LGA 1150) Mini-ITX motherboard, and here's a snippet from their article:



Quote:

"ASUS has been at the forefront of the high performance mini-ITX revolution since it became popularised by small form factor mini-ITX cases like Bitfenix's Prodigy. Today we have one of those innovative mini-ITX solutions of which ASUS now have numerous for the Intel Haswell LGA 1150 socket. ASUS' mini-ITX solutions include the Maximus VI Impact for Z87, the Q87T for Q87, the H81I-PLUS for H81, the H87I-PLUS for H87, the Z87I-DELUXE for Z87 and the Z87I-PRO for Z87 which we have with us today. In terms of the product segmentation both the Z87I-DELUXE and Maximus VI Impact are "better" motherboards than the Z87I-PRO that we have, but the Z87I-PRO is a more cost effective solution.

You'd think that smaller size means less features but it certainly does not as ASUS have done a great job to cram in as much as possible to the Z87I-PRO. Other than the inevitable loss of 2 DIMM lanes and all PCI connectivity except the main PCIe X16 lane ASUS have managed to preserve pretty much everything. You've got the full 6 SATA III ports from the Z87 PCH, 8 USB 3.0 ports and 6 USB 2.0 ports. They've even managed to cram in a 12 phase VRM with a vertically placed VRM daughter-board at the top."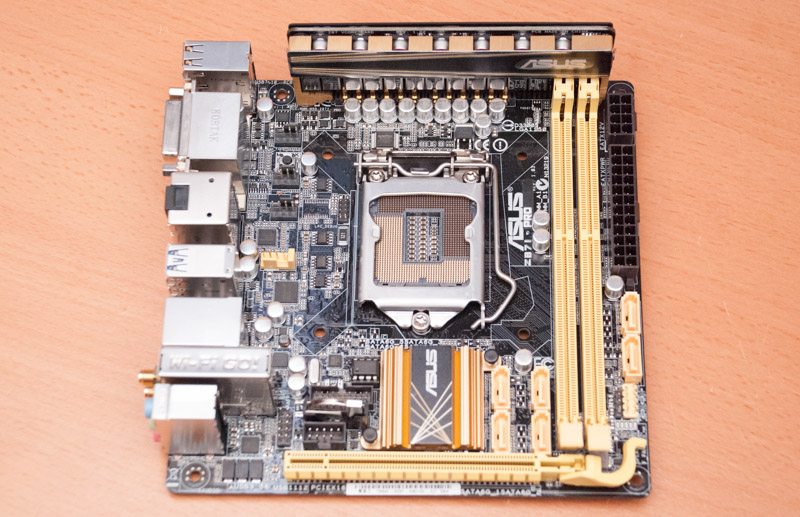 Continue reading here.


Posted by Becky on 26th Nov 2013 - 0 Comments

Tech Power Up have reviewed the HIS R9 270X IceQ X² Turbo Boost 2 GB graphics card:



Quote:

"AMD's new Radeon R9 270X draws its lineage more from the Radeon HD 7800 series than any other. The R9 270X is, for all intents and purposes, identical to the Radeon HD 7870 GHz Edition which launched at $350, but settled down to around $250, holding on to that price-point quite well, and for quite long. At 1050 MHz, its GPU core clock speed is 5 percent higher, and at 1400 MHz (5.60 GT/s effective), its memory clock speed is a significant 16 percent higher than the HD 7870.

The 28 nm "Pitcairn" silicon on which the Radeon R9 270X is based features 1,280 stream processors based on the Graphics CoreNext micro-architecture, 80 texture memory units (TMUs), 32 raster operations units (ROPs), and a 256-bit wide GDDR5 memory interface holding 2 GB of memory.

The R9 270X reviewed today comes from HIS. They have increased clock speeds significantly on their R9 270X IceQ X² Turbo Boost, making this one of the highest-clocked R9 270Xs on the market at this time. We also find the HIS signature IceQ X cooler on the card with its two fans.

The card is very competitive in terms of pricing as it is available online for $200, which means there is no price increase at all for higher clocks and the cooler."

Read their full review here.


Posted by Becky on 25th Nov 2013 - 0 Comments

Benchmark Reviews have taken a look at the Lenovo Yoga Android Tablet - here's a snippet:



Quote:

"When you think of "yoga", you probably envision people twisting themselves into different positions. Like the experienced yoga practitioner, Lenovo's new Yoga tablets have the ability to assume different forms depending on what you're doing with them.

The Android-based tablet market is exploding, with new entries almost every day. We're even seeing what once were dedicated e-readers, like the Nook and Kindle, re-marketed as general purpose tablets. Lenovo's been in this market for a while, and thus it's no surprise to see them introduce another entry, the Lenovo Yoga tablet computers.

A tablet computer, by definition, must be a flat "slate" form factor. Or must it? Lenovo sent us both the 8″ and 10″ screen versions of their new Yoga tablets, so let's see what they've got and how they compare to the rest of the tablet market."

Read more here.


Posted by Becky on 22nd Nov 2013 - 0 Comments

Lan OC have reviewed the SteelSeries Sensei Fnatic gaming mouse - but is it worth the £70 price tag?



Quote:

"When someone asks my opinion on a new gaming mouse, I always have to include a SteelSeries Sensei in that short list. Hard core mice enthusiasts will mention that it doesn't have a "flawless" sensor, but most users would never spot the difference. More importantly, the Sensei has a shape that most absolutely love and you are also getting their SteelSeries Engine software. Those who know me, know I'm a sucker for orange, when I saw the Fnatic Sensei I had to have one to match my orange Siberia v2 headset."

Read their full review here.