Posted by Ian on 1st Sep 2014 - 0 Comments

KitGuru check out the interesting looking Corsair Graphite 380T case, which even comes with a handle for LAN party goers:



Quote:

No doubt you are beginning to lose track of all the cases that Corsair has in its range but honestly, the Graphite 380T is easy to remember. You see it is Mini-ITX and it has a handle on the top, and the sample we have here is yellow and black in colour, rather like a wasp or hornet only with fewer wings. As it happens I was expecting either a black case with red lighting or a black and white model with white lighting, so you have avoided a weak joke about zebras by the narrowest of margins.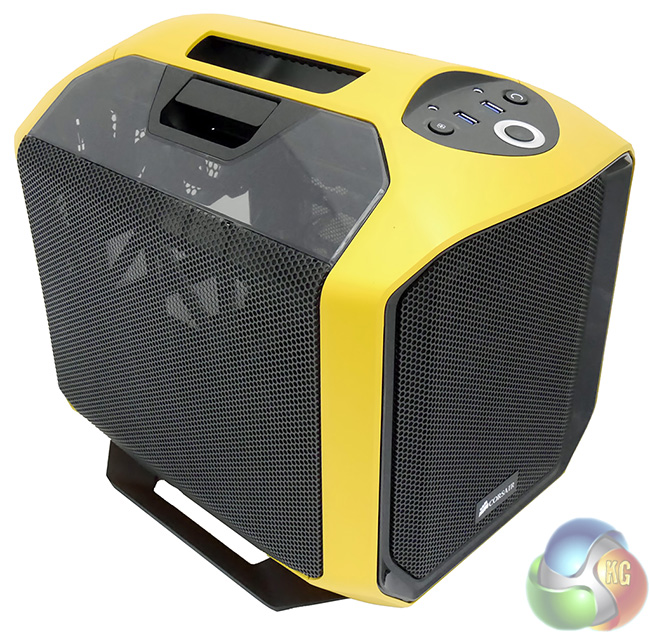 Read the rest here:
http://www.kitguru.net/components/ca...e-380t-review/


Posted by Ian on 29th Aug 2014 - 2 Comments

TechPowerUp have a new review of the MSI X99S GAMING 7 (Intel LGA 2011v3) Motherboard, based on the X99 Express chipset.



Quote:

Intel's X99 Express platform revolves around the new LGA2011-3 socket, an updated design with new drive features and support for the latest in memory technologies, DDR4. In fact, that "S" in the MSI X99S GAMING 7's name stands for the inclusion of one of those technologies still yet to break ground in enthusiast space, SATA Express. There has been a lot of contention in the weeks and months before the launch about what these newest technologies actually have to offer, and since this is a motherboard instead of a CPU review, you unfortunately won't find much information directly related to those particular subjects, but you will find a few performance benchmarks that in some way reflect what you might get out of Intel's latest. So without any further ado, let's take a closer look at the MSI's X99S GAMING 7.

Read the rest here:
http://www.techpowerup.com/reviews/MSI/X99S_GAMING_7/


Posted by Ian on 26th Aug 2014 - 0 Comments

Toms Hardware check out the Sapphire's Dual-X R9 280 OC Graphics Card, aimed at providing a good value gaming option:



Quote:

Sapphire's Dual-X R9 280 OC sports the unique Dual-X cooler with a black-on-gray theme, attached to the company's namesake-colored PCB. That board measures 10.25" x 3.89" and weighs 1 lb 10 oz, making it slightly smaller and significantly lighter than AMD's reference Radeon HD 7950 Boost card at 10.5" x 3.89" and 2 lbs.

This particular product's graphics processor is rated for 850 MHz base, with a boost state of 940 MHz, and 1250 MHz GDDR5 memory. The amount of memory used on Tahiti-based boards is at least generous 3 GB, and the Dual-X is no exception

Read the review here:
http://www.tomshardware.com/reviews/...-280,3914.html


Posted by Ian on 21st Aug 2014 - 0 Comments

Nikktech have a review of the Seagate Wireless Plus 2TB, a mobile storage device which allows you to access the drive over WiFi:



Quote:

The Wireless Plus Mobile Device Storage is basically a 2.5" hard disk drive housed inside an state of the art aluminum/plastic USB 3.0 enclosure that features an internal WiFi receiver/transmitter and a rechargeable battery which gives it up to 10 hours of life. Via the WiFi receiver/transmitter you can access the data inside the drive with up to 8 WiFi enabled devices, stream HD media content on up to 3 WiFi enabled devices (3 different movies to 3 different devices) and also share your internet connection with up to a total of 7 WiFi enabled devices. The 2.5" hard disk drive placed inside the Wireless Plus 2TB is actually the Samsung/Seagate SpinPoint M9T model that features 3 platters (each 667GB in capacity), a rotational speed of 5400RPM and 32MB of cache. In this review we will not only be taking a look at the Seagate Media App that allows sharing of files, streaming of digital content and sharing your internet connection but we will also test the Wireless Plus 2TB as a regular USB 3.0 PHD to see what you can expect in terms of wired performance

Read the review here:
http://www.nikktech.com/main/article...storage-review


Posted by Ian on 19th Aug 2014 - 0 Comments

TechPowerUp have a review the AMD Radeon R7 SSD 240 GB, which is interesting as AMD are only just entering the competitive SSD market:



Quote:

The company AMD certainly needs no introduction, they are one of the most important companies for enthusiasts and gamers, supplying the toys they love. With their 30 year anniversary happening this week, AMD has had a strong footprint in the CPU and graphics market, not long ago they introduced AMD branded DDR3 memory modules and now they are entering the SSD market, on a road which seems to lead to an all-AMD PC.

Since AMD has no SSD design knowledge on their own and they don't build any SSD controllers or flash chips at Globalfoundries, AMD decided to team up with OCZ, which has recently been acquired by Toshiba. OCZ has their own controller designs (Indilinx) and Toshiba supplies their own flash chips, seems like a fruitful cooperation.

Read the rest here.


Posted by Ian on 16th Aug 2014 - 0 Comments

[H]ardOCP have a review of the Thermaltake Core V1 Mini-ITX Case, one of the more interesting looking cases around:



Quote:

Lots of folks are looking towards a high end desktop computer system with a much smaller footprint. Mini-ITX motherboards have gotten to such a good quality level over the last few years, putting a gaming and overclocking behemoth in a small case is a possibility and Thermaltake wants to take it to the next level.




Read the full review here.


Posted by Becky on 11th Aug 2014 - 0 Comments

Kit Guru have asked DinoPC to build them a gaming PC and laptop at the same price point to see which performs better - here's a snippet from their review:



Quote:

"What kind of gaming system can you get for £1,099 inc vat? Perhaps you are contemplating a desktop replacement style laptop but are wondering how the performance will compare? With this in mind we approached UK system builder DINOPC and they built a desktop and a laptop system at the same price point – the Slayer 15.6″ GTX 870M and the Magma Wrath GTX 770.

Many times when KitGuru get a desktop system to review, the system builder won't factor in the additional cost of a monitor, keyboard or gaming mouse. When building the desktop system for this article today DINOPC had to factor in the cost of all these 'extras'. We could argue that many people will already have a monitor, keyboard and mouse from a previous build, but equally so they could be old and in need of replacement.

You always pay more for portability and we know the desktop system will likely be faster, but will it be significant?"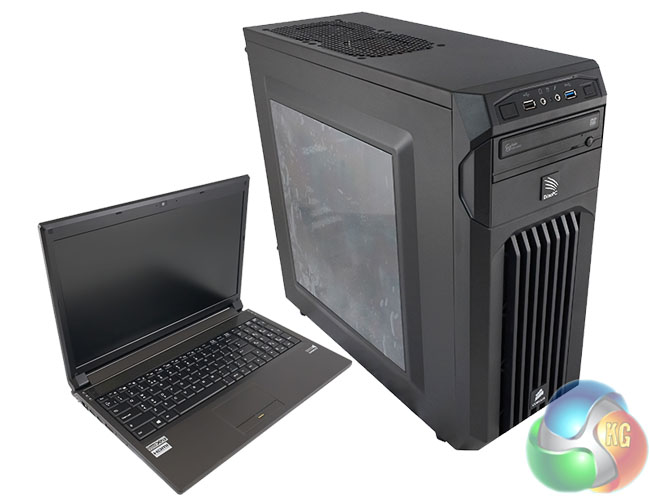 Read more here.


Posted by Becky on 8th Aug 2014 - 0 Comments

Hexus have been taking a look at the Corsair Voyager Air 2 wireless storage device, and here's a snippet from their review:



Quote:

"Corsair's initial foray into the burgeoning wireless-storage market arrived in the form of the Voyager Air last year. Housing a 1TB, 2.5in drive inside a chassis that also incorporated a LiPo battery and WiFi card - good for about six hours of mobile streaming usage - Corsair was up against some established competition from the likes of Seagate.

Good wirelessly-connected storage is more than just about picking the right hardware. Rather more important is the software interface and quality of applications present on the Apple iOS, Google Android and Amazon Kindle ecosystems. So while the original Voyager Air was good from a features point of view, the basic interface, though perfectly serviceable, lagged behind rivals'.

Corsair introduced a second-generation model, Voyager Air 2, a couple of months ago at the Computex trade show, a year on from the original release. It is now housed in a smarter chassis and bundled with overhauled software."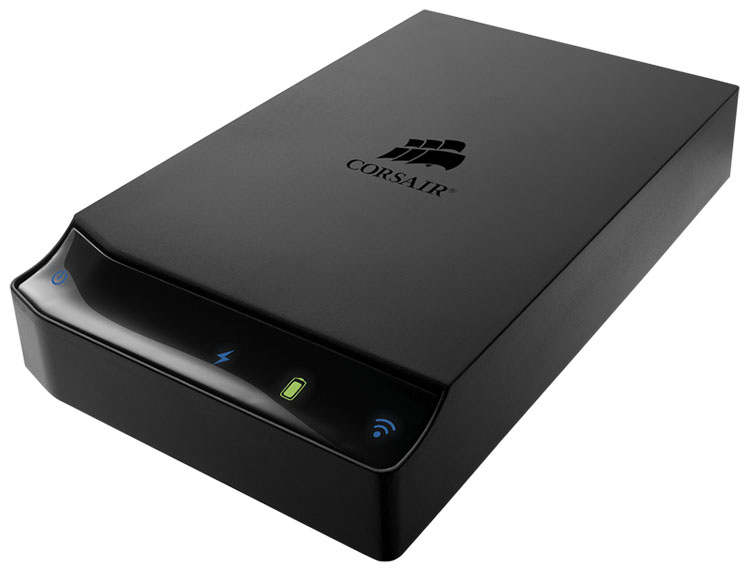 Continue reading here.