Posted by Becky on 28th Jul 2014 - 0 Comments

Benchmark Reviews have been taking a look at the Lenovo Yoga 10 HD+ Android Tablet - here's a snippet:



Quote:

"Last fall Benchmark Reviews examined the predecessor to the Lenovo Yoga 10 HD+ tablet, and found that it represented an excellent value for the money. This time around, Lenovo ups the ante with a dramatically improved screen, faster quad-core Snapdragon processor, and double the memory of the earlier model. Add its unique design and construction and the Lenovo Yoga tablet becomes on of the more intriguing Android devices available.

A tablet computer, by definition, must be a flat "slate" form factor. Or must it? If you haven't seen a Yoga tablet before, you may be in for a surprise. Like the experienced yoga practitioner, Lenovo's Yoga tablets have the ability to assume different forms depending on what you're doing with them."

Read more here.


Posted by Becky on 25th Jul 2014 - 0 Comments

Hard OCP have reviewed the Cooler Master V650S 650W Power Supply, and here's a snippet from their conclusion:



Quote:

In the end, the Cooler Master V650S is a very good power supply with a few flaws that ultimately make this unit fit rather poorly into the segment that Cooler Master has fashioned for it. However, where this unit does things right, it does these very right. For instance, we get excellent efficiency and outstanding noise output levels from this unit. After that, we see that this unit still does very well when look at the voltage regulation, Transient Load tests, and the DC output quality but it doesn't ever manage to pull out of the middle of the pack on any of these qualities. It also has a faux pas or two to overcome with the generally good build quality that also features bizarre cost cutting measures and a completely inappropriate cable allotment for the market. That cable allotment is ultimately what really makes this unit disjointed among the units we spent the day comparing it to; save for the previous GX 650W.

You can read the full review here.


Posted by Becky on 24th Jul 2014 - 6 Comments

Yep, you read that right - this case is called Steam Castle... and just take a look at it! Vortez reports:



Quote:

"A number of weeks ago DeepCool announced their STEAM CASTLE and received a mixed reception. This bold new design follows the Steampunk genre and therefore by its very nature breaks away from the current trend of discreet and subtle styling which we are all too familiar with.

STEAM CASTLE is a fun and exciting new Micro ATX computer chassis which is available in a selection of colours. This case comes with a handy fan controller, two cooling fans and the prospect of future modding projects."

Read their full verdict here.


Posted by Becky on 23rd Jul 2014 - 1 Comments

Techware Labs have been taking a look at the Tt eSports Poseidon Z Mechanical Keyboard - here's a snippet from their review:



Quote:

"The rise in popularity of mechanical keyboards is prompting many big name manufacturers to come out with their own design. Tt eSports, Thermaltake's elite branding for competitive gamer gear, responded with the Illuminated Poseidon Z mechanical gaming keyboard. If you are reading this, you already decided you want a mechanical keyboard with blue switches and are in the process of choosing what keyboard to get. Perhaps notice that Tt eSports Poseidon Z is very well priced and want to know more about it. I assume you responded yes to the above statements and the want to know if Tt eSports illuminated Poseidon Z Mechanical Gaming Keyboard is right for you."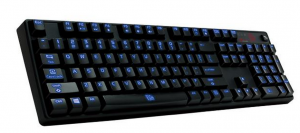 You can read more here.


Posted by Becky on 21st Jul 2014 - 0 Comments

Tech Power Up have had the Rosewill Capstone Modular 1000 W on their test bench - here's a snippet from their review:



Quote:

"Today's menu consists of Rosewill's flagship Capstone modular series unit with 1 kW capacity and 80 Plus Gold-certified efficiency. The unit is based on an older Super Flower platform, which, however, still delivers good performance for today's standards, and, most importantly, allows Rosewill to sell this unit for a very good price. Thanks to its six PCIe connectors, the large Capstone unit will easily power a three-way SLI or Crossfire system, and its resilience to high operating temperatures over prolonged periods of time and with the full load (up to 50 °C) proves that quality components are used in its construction. Rosewill obviously also has a lot of faith in the platform since they guarantee it to operate properly for seven years, providing a one-to-one replacement policy should anything go wrong. But enough with the long prologue, lets check on the unit's specifications."

Read more here.


Posted by Becky on 18th Jul 2014 - 1 Comments

Pure Overclock have reviewed the rather unique looking ThermalTake Level 10 M Hybrid Mouse - here's a snippet:



Quote:

"There are a lot of different features we look at when purchasing peripherals, especially when it comes to our mouse for gaming. Who wants a heavy, uncomfortable mouse that may jump around while we're trying to make the next kill? Introducing the next ThermalTake mouse capable of operating in wired or wireless mode. It has a sleek design and is capable of being reshaped to your personal comfort level. ThermalTake claims that gamers are guaranteed to find that special spot to rest comfortably spending long hours gaming. Let's take it for a spin and see if this holds true."

MY EYES! Read more here.


Posted by Becky on 17th Jul 2014 - 0 Comments

Hardware Heaven have been taking a look at the Linksys AC1200 MAX Wi-Fi Range Extender - here's a snippet from their article:



Quote:

"A couple of months ago we reviewed a new router from Linksys (WRT1900AC). With styling based on one of their classic routers but specs to compete at the high end of the market. After some time with that router we found it to be the best we had tested to date. Performance was fantastic and the user interface we so much better than the competition.

Today Linksys launch their latest high end device, the AC1200 Max range extender which compliments their routers by boosting our Wi-Fi signal towards the edge of the routers range. We have one for review, so let's find out if it shares the same easy setup and good performance as their latest routers."

Read more here.


Posted by Becky on 16th Jul 2014 - 5 Comments

Kit Guru have reviewed the AOC G2460PG G-Sync 144Hz 1ms Gaming Monitor - here's an excerpt:



Quote:

"On July 4th we reviewed the latest G-SYNC monitor from ASUS, the 1440p ROG Swift PG278Q 144hz. It was undoubtedly one of the best monitors we have reviewed in the last year. However at £719.99, it will prove too expensive for the majority of the enthusiast audience. Today's review product, the 24 inch 1080p AOC G2460PG G-Sync 144Hz will be more palatable for many – priced at less than 50% of the ASUS screen, at £347.99 inc vat. Is it worth the money?

One of the major selling points of this new AOC screen is the support for Nvidia's G-SYNC technology. G-SYNC has been designed to eliminate screen tearing – an unpleasant artifact that can rear its ugly head from time to time. We have covered this technology before in many of our news posts, but we will discuss it again briefly before delving into our main review."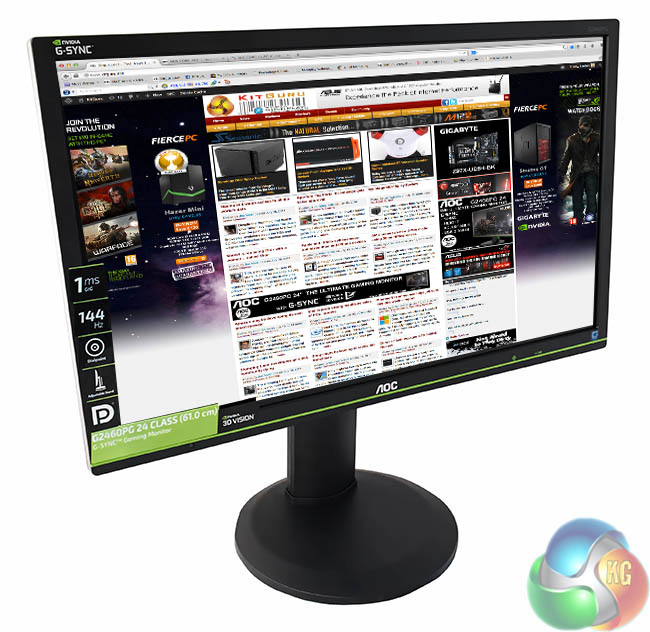 Read their full review here.