Users' impression of SanDisk mostly is memory card brand. Actually, they have been working for high speed SSD for long time.
The main product line is Extreme series. Two years ago, I have test the first generation SanDisk Extreme 240GB.
Last year, they unveil Extreme II and this year is Extreme PRO during Computex.
It's the product this review. SanDisk Extreme PRO has 3 capacities.
There are 240, 480 and 960GB. This review will test 240 and 480GB.
As SSD using experience, SandForce240GB performance is higher than 480GB a little.
Recently, more products use Marvell controller. Some 480GB performance is higher than 240GB official spec.
The key difference of Extreme PRO and other SSD is it has the same performance for 3 capacities.
First of all, let's check the appearance of SanDisk Extreme PRO SSD.
It's same design pattern with own memory card. Black as main tone with red linear .
240GB product code is SDSSDXPS-240G-G25.
It's 2.5". The height is 7mm. Sequential Read / Write up to 550/520 MB/s.
Random Read / Write up to 100K / 90K IOPS. The numbers are based on CrystalDiskMark.
Official specs make SanDisk Extreme PRO as best SATA3 SSD performance in current market.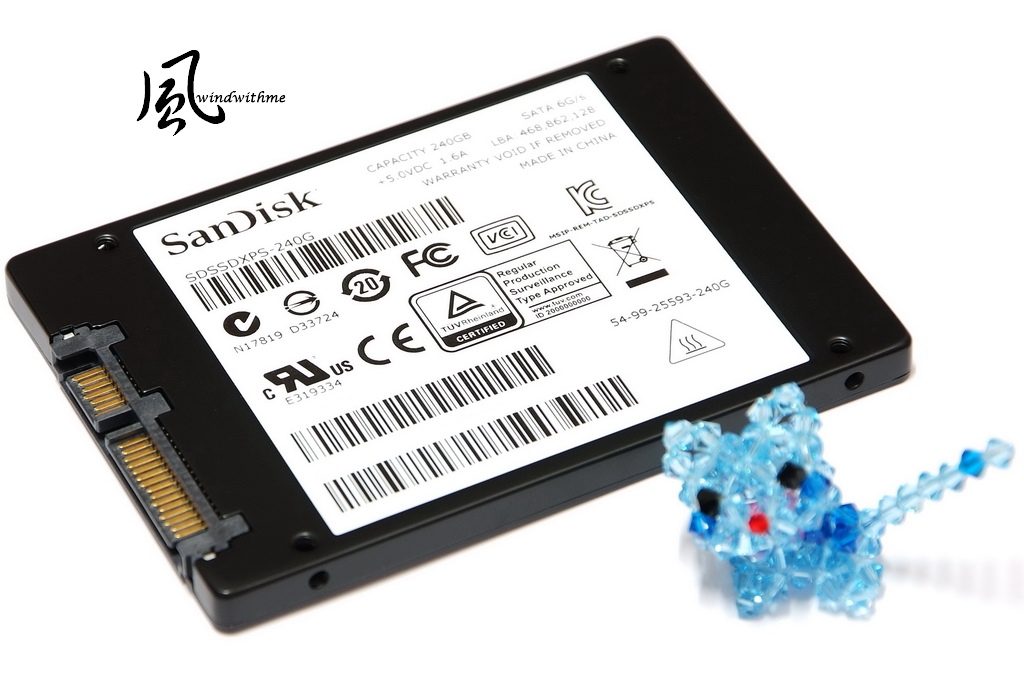 480GB product code is SDSSDXPS-480G-G25
Sequential Read / Write up to 550/515 MB/s
Random Read / Write up to 100K / 90K IOPS. Tested by CrystalDiskMark.
480GB and 240GB main difference is Sequential Write from 520 MB/s to 515 MB/s.
Durability is Terabyte Written>80 TBW for 3 models.
Extreme PRO provides 10 years conditional warranty. Internet shows 10 years warranty for remarked regions.
I would like to remind you, the warranty will be void if SSD warranty sticker broken. Please don't try it.
SanDisk Extreme PRO series uses Marvell 88SS9187 controller.
It is self-owned SanDisk latest 1Ynm, eX2 ABL MLC, oggle Flash.
NAND Flash IC is very special. Currently, Marvell 88SS9187 mostly build with Toshiba NAND Flash.
DRAM Cache in 240GB is 512MB and 480/960GB is 1GB.
The detail performance will show you in following result.
First platform is Intel DeskTop, using GIGABYTE latest G1.Sniper Z97.
It builds in Qualcomm Atheros Killer E2201 LAN controller and Creative Sound Core 3D audio processor.
As G1.Sniper Z97 design and components, the C/P is quite good in Gaming MB market.
GIGABYTE G1 series has big change since Z97/H97 chipset. The design moves to popular black and red.
Logo changes to robot eye which is better than the past. Audio is the key feature.
It owns AMP-UP Audio technology and market only swappable OP-AMP chip design.
Intel Z97 is Intel latest mid-high end chipset. It's popular in the market now.
Usually, Intel chipset IOtransmission is better. Since Z87, it supports 6 native SATA3 ports.
I believe it's good for SATA3 SSD and RAID performance.
System Configuration
CPU: Intel Core i5-4690K
MB: GIGABYTE G1.Sniper Z97
DRAM: CORSAIR DOMINATOR-GT DDR3 2800 4GX2
VGA: SAPPHIRE Raden HD 6970 CrossFire
HD: SanDisk Extreme PRO 240-480GB
POWER: ANTEC TRUEPOWER Classic 850W
Cooler: XIGMATEK HDT-S1283
OS: Windows7 Ultimate 64bit
System setting
Intel Core i5-4690K OC 4.5GHz
CORSAIR DOMINATOR-GT enable XMP as DDR3 2800.
Single SanDisk Extreme PRO 240GB or 480GB at SATA3 port
Non-OS drive without data installs in Intel Z97 platform.
Each software has two pictures. The above one is 240GB and below one is 480GB.
HD Tune Pro 5.50
Black Size is the special one. The default is 64K on the left and 8MB on the right.
64K - Read - Average 436.7 MB/s Access Time 0.036ms
8MB - Read - Average 527.4 MB/s Access Time 0.036ms
64K - Read - Average 473.8 MB/s Access Time 0.024ms
8MB - Read - Average 528.7 MB/s Access Time 0.036ms