In 2011, Intel and AMD both launched native SATA3 supported chipset.
SATA3 strength is 6Gb/s bandwidth that is double of SATA2.
It brings Solid-State Hard Drive performance into new competition stage.
SSD performance is combination of controller chip and NAND FLASH.
NAND FLASH also divides into SLC and MLC. Now the mainstream market is MLC.
Nowadays, MLC performance is not much different with SLC. MLC writing life cycle is also improved by new algorithm technology.
Of course, MLC market price is much lower than SLC, the future trend still go this way.
Last year, best SATA3 controllers were SanForce and Marvell.
Intel 510 Series SSD also used Marvell.
This SSD is from CORSAIR latest series - Performance Pro Series.
It's different naming with former Performance 3 Series, but the packing seems belong to same product line.
Content
Upper right is Performance Pro 128GB. Lower is 3.5" adapter and screws.
It's 2.5 inches and 128GB capacity. Max Sequential Read/Write official spec, using ATTO Disk Benchmark, is 500/340 MB/s.
Random 4K max writing performance is 60000 IOPS. It's very high spec in SSD market now.
The shell is silver coated with brushed finish. The texture is similar to sleek metal.
CORSAIR provides 3 years warranty. It has 128GB and 256GB.
I hope they can provide 564GB in the future for more options.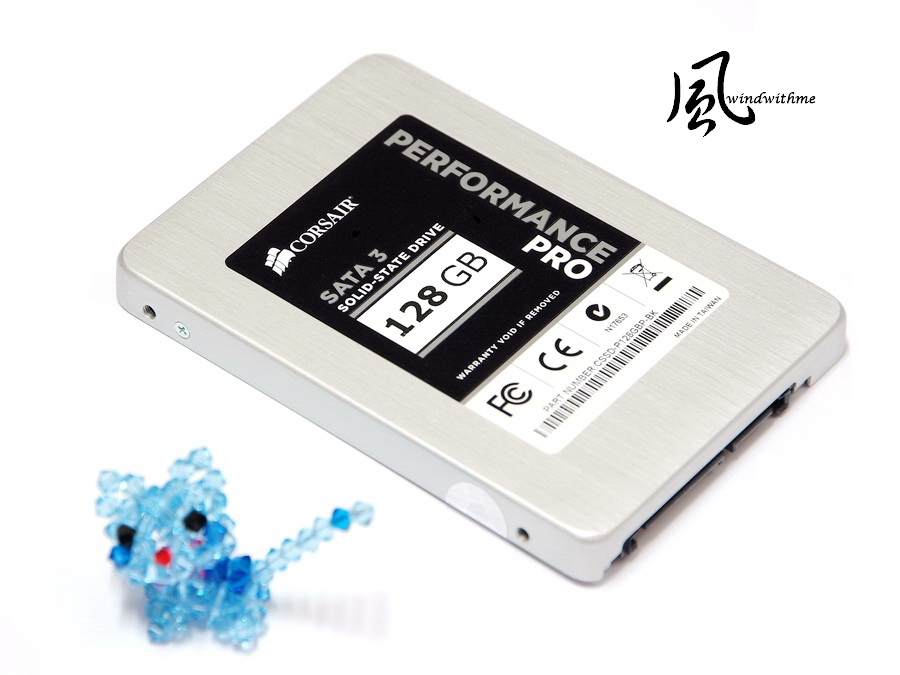 Backside material and tone are same as front.
You can see 2 silver laser stickers in lower right and left. It's for warranty and internal hardware protection. I suggest you to keep it as origin.
This is SATA3 and power connectors. It's same as SATA2. Users need to distinguish SATA3 by packing or spec sticker.
Performance Pro uses Marvell 88SS9174-BKK2 controller.
NAND FLASH is TOSHIBA 34nm, 16GB per chip. DRAM Cache is NANYA DDR3 256MB.
So far, I only see PLEXTOR SSD using this combination and it's been launched for months.
In Nov, CORSAIR launched Performance Pro. The performance should be the most average one.
First of all, Intel DeskTop platform uses GIGABYTE Z68A-D3H-B3 supports Raid 0.
It's with 3 PCI-E X16, 2 PCI-E X1 and 2 PCI. It's good expandability in ATX platform.
Z68 also supports GPU output. It supports 3 output interfaces and blue one is USB 3.0 port.
Z68 exclusive Intel Smart Response Technology supports small capacity SSD and HDD making hybrid speed up.
Intel Z68 chipset is mid-high segment product. It's easy to find in the market.
In the past 6 months, MB tough competition made Z68 entry model price is more parity and reasonable.
P67 and H67 position and price are not good as H61 and Z68, they are almost fade out from the market.
Test Configuration
CPU: Intel Core i5-2400
MB: GIGABYTE Z68A-D3H-B3
DRAM: CORSAIR CMX8GX3M2A1600C9
VGA: Intel HD Graphics 2000
HD: CORSAIR Performance Pro Series 128GB / TOSHIBA 750GB
POWER: be quiet! STRAIGHT POWER GOLDEN 550W
Cooler: Intel Original Cooler
OS: Windows7 Ultimate 64bit